IK Multimedia iRig MIDI is an ultra-compact standard Core MIDI interface for iOS that connects any MIDI compatible device to the iPhone, iPod Touch and iPad by using the 30-Pin connector. IK Multimedia iRig MIDI connects MIDI keyboards, drum machines, drum pads, pedal boards and more to an iOS device to control not only the included SampleTank FREE but also a world of MIDI-compatible apps such as GarageBand. You can also use iOS apps to control external MIDI equipment such as sound modules, DAWs or lighting systems right from the mobile device.
IK Multimedia iRig MIDI is the only compact iOS MIDI interface sporting 3 MIDI ports: IN/OUT/THRU. These connect to any standard MIDI jacks using the included 2 x 1.6m/5.2' cables. iRig MIDI also has 2 LEDs for displaying the MIDI activity on the IN and OUT ports.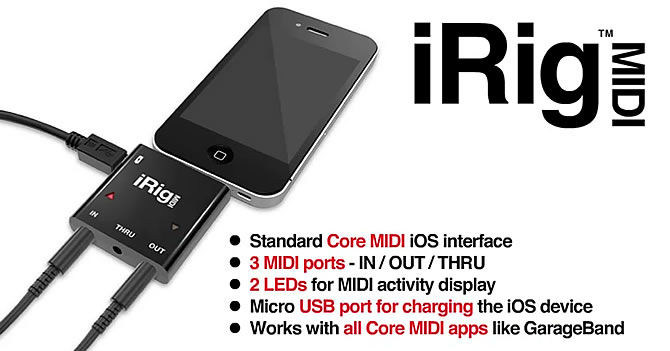 IK Multimedia iRig MIDI also exclusively provides a micro USB port – with included cable – that connects to any standard USB power supply source so that the iOS device can stay fully powered during long sessions.
Watch online the video presentation iRig MIDI Core MIDI interface for iPhone / iPod touch / iPad and SampleTank for iOS on the Official You Tube Account of IK Multimedia.
IK Multimedia iRig MIDI Top Features
• MIDI IN, MIDI OUT and MIDI THRU ports
• Core MIDI compatible connects any Keyboard, Drum Machine, Drum Pad, Pedal Board etc.
• Connect to the iPhone, iPod Touch or iPad via 30 pin connector
• Totally portable, powered from the iOS device, does not need external power
• MIDI Activity indication LEDs for MIDI IN and MIDI OUT
• 5V DC in socket on micro USB to charge the iOS device while iRig MIDI is in use (cable included)
• 2 pcs. 1.6 mtr. TRS Mini-Jack to MIDI 5-pin DIN cables included.
• Lightweight solid construction does not stress iOS device connector
• Ultra compact design that fits in your pocket
• Inlcudes SampleTank FREE App to turn your iOS device into a powerful MIDI controlled sound module
• Includes iRig MIDI Recorder FREE App to save and playback MIDI recordings.
Estimated Price: EUR 55. For more details check the product page on IK Multimedia Site.
Source: IK Multimedia.