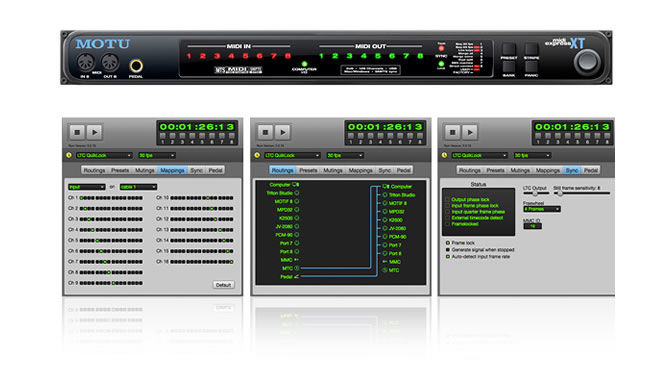 Because a lot of people ask for this, MOTU reintroduces Midi Express XT, their 8-in/8-out MIDI interface, patchbay, and merger with time code sync.
The MIDI Express XT is MOTU's intelligent 128-channel USB MIDI interface for Mac and Windows. It delivers USB connectivity to any computer, sub-millisecond MIDI timing accuracy, 8 separate MIDI inputs, 9 MIDI outputs, sync features, a foot switch input, and tons of MIDI processing, including routing, merging, and muting. Best of all, Midi Express XT is now shipping again at the same price with support for 23.976 SMPTE time code and completely updated ClockWorks software for Mac OS X and Windows 7/Vista.
Motu MIDI Express XT Top Features
USB MIDI interface for Mac and Windows
Stand-alone MIDI patchbay/merger/processor
SMPTE time code sync in all formats (includes new support for 23.976 fps time code)
8×8 MIDI merge matrix: connects any device to any other
16 front panel presets
8 independent MIDI IN
8 independent MIDI OUT (9 output connectors)
128 MIDI channels
Supports MIDI Machine Control
Pedal input for momentary foot switch
16 presets with 8 programmable, battery-backed memory
MIDI Time Stamping (MTS) for sub-millisecond timing accuracy
Includes updated drivers and ClockWorks™ software for Mac and Windows
Internal Power Supply
Motu MIDI Express XT | Midi Processing
Merge any inputs to any outputs
Route any inputs to any outputs
Mute any MIDI data on any cable
Re-channelize on input and output
Motu MIDI Express XT | Sync
SMPTE time code (LTC) generator and reader
Converts LTC to MIDI Time Code (MTC) to sync a Mac, PC or any other devices to SMPTE time code
Converts all SMPTE frame rates (23.976, 24, 25, 29.97 drop, 29.97 non-drop, 30)
Stripes SMPTE time code in all frame rates (23.976, 24, 25, 29.97 drop, 29.97 non-drop, 30)
Converts MIDI Time Code to SMPTE time code
SMPTE "Jam Sync" with adjustable freewheeling for dropout-free sync
Supports MIDI Machine Control – serves as either an MMC master or slave, distributes MMC transport commands to all other MMC devices
Motu MIDI Express XT | Specs
Custom-designed VLSI technology
Front panel buttons and LED's for choosing presets (8 factory, 8 user)
Front panel SMPTE stripe button
Front panel SMPTE lock and tach LED's
Status lights for MIDI IN/OUT and computers
Front panel MIDI IN and OUT ports
Panic button
17 MIDI connectors
2 SMPTE quarter-inch phone (line level)
1 pedal quarter-inch phone input
1 IEC power connector (switchable 115V – 220V)
Includes: Software console for Macintosh and Windows, power cord, USB cable
Chassis dimensions, excluding rack ears: 19 × 7 × 1.75 inches (48.26 × 17.78 × 4.45 cm). With rack ears attached, fits standard 19 inch (48.26 cm) rack at 1U high.
Source: Motu