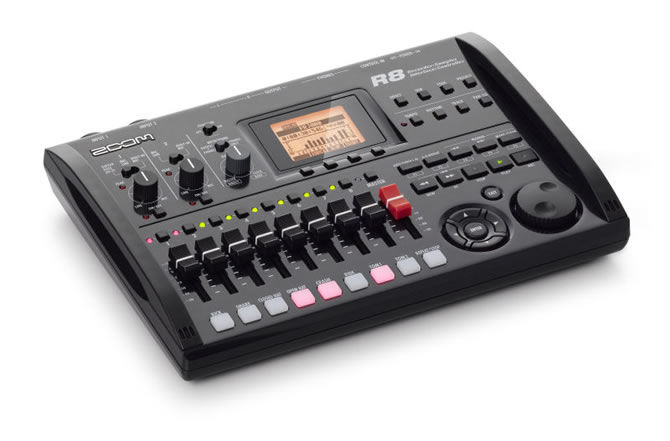 The guys from Zoom Corporation took one of the best product they sale – R24 – and made it smaller for an ultra-portable music production solution. We have now R8 – The Mobile Studio in just 257(W) x 190(D) x 51(H) mm. Like Zoom R24, the R8 combines four production tools in one versatile device. In addition to being an 8-track recorder that uses SD memory, the R8 is an audio interface, a DAW control surface and a sampler complete with drum pads and a rhythm machine.
Zoom R8 Top Specifications
Zoom R8 has the possibility for simultaneous recording of 2 tracks and playback of 8 tracks and because of the small dimensions it is the ideal tool for capturing audio on-the-go. You can record live music performances, rehearsals, songwriting sessions or even audio for film and video.  Zoom R8 can playback up to eight tracks of audio at up to 24-bit/48kHz resolution as WAV files. You can even mix down completed songs inside the R8 and save a mix for each project.
Audio interface supports 2 inputs and 2 outputs. When combined with, the R8 becomes a powerful audio interface. R8 connects to PC via USB, and works with all known DAW ( R8 comes with Cubase LE software). Simultaneous 2-in/2-out capability makes the possibility to record up to 24-bit/96kHz high-definition audio. On the 44.1kHz sampling rate, the internal DSP effects of the R8 are also available for the computer tracks. A dedicated control lets you adjust the mixing balance between the DAW playback sound and the direct sound for monitoring.
Control surface functions for most DAW software. The R8 can be used as a control surface for DAW transport functions (play, record, stop) and mixing operations. Through a USB connection, you can control the transport and mixing functions of major DAWs such as Cubase, Logic, and Sonar from the R8. In addition, you can easily move multiple faders at the same time.
Zoom R8 has 8-voice sampler with 8 pads. The built-in sampler functions allow you to loop audio data on any track. You can play the pads in real-time and combine loops to create a performance for an entire song. When setting loop intervals, you can see the waveforms for visual confirmation. Time-stretching, which allows you to change the tempo without changing the pitch, and trimming the unneeded parts of loops, is also possible. You can use the sampler and recorder functions together seamlessly to play back loop tracks while recording instrumental performances on other tracks.
More informations and specs you can find directly on the R8 page on Zoom Corporation site.
Sources: Zoom Corporation