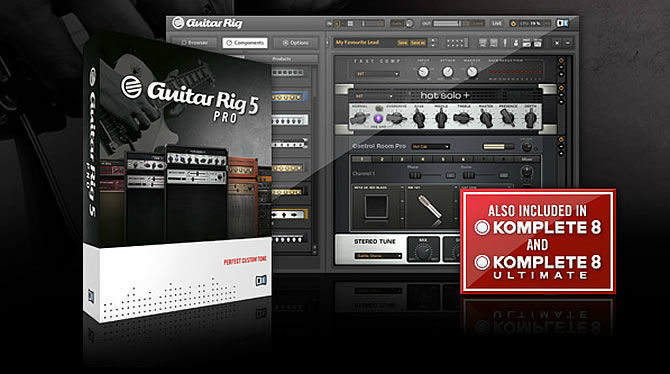 Native Instruments today announced Guitar Rig 5 Pro, the ultimate software solution for perfect custom tone with more amps, more effects and more creative potential than ever before, all in a powerful and intuitive virtual effects rack. The latest version includes two essential new high-gain amps, six powerful new effects, and 19 new cabinets — exquisitely modeled in stunning sonic detail. And for complete custom control and a new level of realism, Native Instruments Guitar Rig 5 Pro gives you the all-new Control Room Pro. Premium sound quality, maximum flexibility and total control for guitar, bass and more.
Native Instruments Guitar Rig 5 Pro offers 17 legendary guitar and bass amplifiers, modeled with the exacting precision of Native Instruments award-winning Dynamic Tube Response Technology. Including the original multi-channel designs and model-specific tweaking options, these amps convey the character, charm and feel of their real-world counterparts, with a vast arsenal of tried-and-true tones for all genres. Every single amp has its own matched cabinet. This harmonized amp/speaker setup is easy to use yet super-flexible, providing you with classic sounds in seconds. And the Control Room Pro gives you even more options, with a total of 27 exquisite cabinet models to choose from.
Native Instruments Guitar Rig 5 Pro gives you two options for mixing your tone:
1. Control Room points eight perfectly-aligned mics at a cabinet of your choice – your own studio engineer for instant pro settings.
2. Control Room Pro digs deeper – arm each track of the 8-track mixer with your own choice of cabinet, mics and positioning. That's eight custom setups at once, for the ultimate in extravagant sonic fine-tuning.
Native Instruments Guitar Rig 5 Pro What's New
TWO NEW AMPS
The Van 51 delivers superstar signature sound from hard rock to blistering crunch — great for drop tunings and menacing palm-muted chug. The Hot Solo+ recalls a classic hand-wired amp with a boutique, responsive overdriven tone. For expressive, singing solos that still sound heavy as hell, the Hot Solo+ is your amp.
SIX NEW EFFECTS
Fast Comp — A warm, vintage-style compressor for keeping your peaks in check. Essential for clean sounds.
Vintage Verb — Eight different classic plate and spring reverbs. Not just for retro — also great for adding class and character.
Little Reflektor — Advanced convolution reverb, based on the acclaimed REFLEKTOR, with eight impulse responses plus decay and low cut control.
Stereo Tune — Not a tuner! Spreads and detunes the stereo image for a fatter sound and de-tuned effects.
Filterbank — Drastically transform your sound with this powerful 8-band filter, with a global frequency shift and stretch parameter for highly expressive effects.
Resochord — Turn notes into chords and get shimmering, resonating sci-fi chorus with this six-pole harmonizer.
CUSTOM MULTI-EFFECTS: CONTAINER
The new Container is a utility module for creating and storing multi-effects and custom channel strips. Assemble your processing chain, then assign the eight macro-controls to the key controls on any of the effects in the chain. It's a great way to get simple control over your sound, and an essential tool for performance.
CONTROL ROOM PRO
Extending the already comprehensive mix options in the Control Room, the new 'Pro' version gives you eight custom setups at once, for the ultimate in extravagant, almost limitless fine-tuning. Arm each track of the 8-track mixer with your choice of cabinet, mics and positioning. Choose from 27 cabinets, up to 16 microphones and up to three mic positions, including room mics. Then juggle the levels for intense sonic perfection.
OVER 130 NEW PRESETS
The sound designers at NATIVE INSTRUMENTS have been busy with the new amps and effects, and they've created over 130 new presets. Highlights include an array of warm, absolutely realistic clean sounds, a number of searing distortion presets and ready-to-use multi FX.
ADDED SIDE-CHAINING
Side-chaining is an extremely useful technique for reducing sonic clutter and creative 'pumping' effects. GUITAR RIG 5 PRO adds side-chain inputs to a number of compressors and Modifier modules, making it easy to incorporate this technique into your effects chains.
Native Instruments Guitar Rig 5 Pro will be available in September 2011 for a $199 / 179 EUR and will also be included in the new Native Instruments Komplete 8 and Native Instruments Komplete 8 Ultimate bundles. The software will also be available in combination with the Rig Kontrol pedalboard controller as Guitar Rig 5 Pro for a suggested retail price of $449 / 399 EUR.
More details you can find on the product page from Native Instruments Site.
Source: Native Instruments