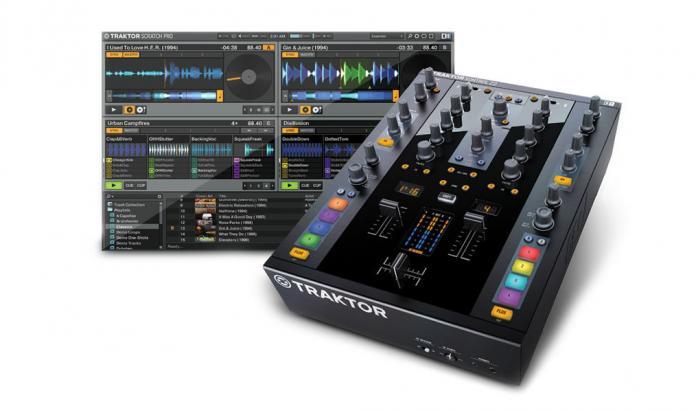 Native Instruments has announced the availability from November 1st of Traktor Kontrol Z2, the first 2+2 control mixer designed for Traktor. Z2 is great as a control hub and also as a stand alone mixer.
Native Instruments Traktor Kontrol Z2 Hardware Details
Ergonomic and Intuitive
Based on industry-standard DJ mixer design, Traktor Kontrol Z2's DJ-friendly layout is ergonomic and intuitive for uninterrupted flow from the moment you get your hands on it. A spacious control surface with faders, 3-band EQ section and dedicated chunky filter knob per channel – each in exactly the right place – gives you maximum control.
Additional Traktor rotary encoders for Macro FX and Remix Decks are placed in the Kontrol Section alongside Flux Mode buttons for easy access, and multi-colored cue point trigger buttons allow you to jump through and re-edit your tracks in style.
A new level of quality
A rock solid, aircraft-grade aluminium chassis takes build quality to a whole new level – even by Traktor standards. Precision knobs, buttons, push encoders and Innofaders™ give you ultra-accurate control of your sets.
The Z2's premium, backlit buttons provide precise visual feedback in even the darkest clubs, and the built-in, powered USB hub adds connectivity for two add-on controllers such as Traktor kontrol F1 or X1, freeing up laptop ports.
Pristine, Punchy Sound
Traktor Kontrol Z2 is designed from the ground up for tight, club-ready sound. From low noise audio power supplies to premium 24-bit soundcard, Cirrus Logic converters, and pro XLR outputs, every component has been chosen so your sets hit with maximum impact.
Top view of Traktor Kontrol Z2's main three sections:
A. Mixer Section
Instantly familiar layout and feel based on industry-standard design
B. Effects Section
Ingenious one-knob Macro FX for buildups, breakdowns, and an overall creativity boost
C. Kontrol Section
Traktor-specific cue point, Remix Deck™ and loop controls – the core of the 2+2 design
Native Instruments Traktor Kontrol Z2 Software Details
Flagship Software
The package includes the full version of the Traktor Scratch Pro 2 digital vinyl system with Remix Deck™ technology.
DJs worldwide rely on Traktor. Beautiful TruWave colored waveforms let you spot kicks, hats and snares at a glance. Browse and prep your tracks quickly thanks to iTunes® integration, and use Crate Flick to easily select the next track by artwork. Auto track analysis plus BPM and beat detection give you the freedom to choose: Match beats manually, sync to tempo only, or use full-on beat and phase sync.
Whatever your workflow, Traktor is ready.
Timecode Vinyl Included
Spin your digital tracks as if they were pressed on vinyl with the included Traktor Scratch timecode vinyl and CDs*.
The super-tight, 2kHz control signal means Traktor Scratch responds to every scratch with analog precision – even on tricky motor-offs or ultra-fast rubs that competing systems can't handle with the same accuracy. Get hands-on-wax feel when beat-matching with Traktor Scratch Pro 2.
Creative Arsenal
Brand-new Macro FX combine multiple Traktor Effects effects on a single knob. Now it's easier than ever to build up, breakdown and destroy tracks with a single, intuitive action. Add 30+ club-proven effects from classic DJ effects to advanced beat manglers – you're ready to take your sets to the next level!
Flux Mode tracks the time while you're juggling cue points or looping and lets you drop back in at exactly the right moment – a powerful weapon for all creative DJs. Intuitive loop and cue functions allow for perfect auto loops at the press of a button – and the immensely powerful Remix Decks make live remixing a breeze.
The announced price is 799,00 €. Traktor Kontrol Z2 will be available from November 1st, 2012. You can preorder Z2 on the official site, here.
Source: Native Instruments