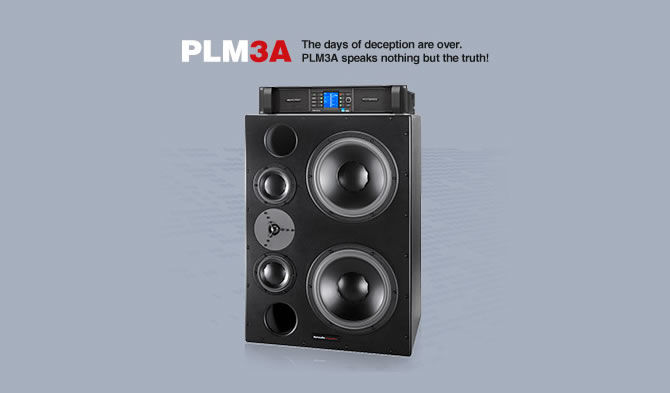 Speaking of the truth and as the saying goes: a chain is only as strong as its weakest link. With that in mind, the PLM3A bundle is the perfect example of how three state-of-the-art elements have been successfully combined to become the ultimate audio monitoring chain. A set of unrivalled Dynaudio Acoustics M3A 3-way monitors is the first link, a Lab.gruppen PLM 10000Q amplifier is the second and cutting-edge Lake and TC Electronic processing is the third link, ensuring that any room can become the perfect listening facility.
Dynaudio Acoustics M3A
Dynaudio Acoustics has provided audio professionals with first-class monitoring solutions for decades, and the M3A monitors build on that proud tradition, being equipped with extremely clean, dynamic, powerful and reliable speakers in which common problems such as cone break up, thermal compression and phase misalignment have been almost eliminated. The M3A speakers feature a pair of 300mm bass drivers that are perfectly complemented by two 150mm piston midrange drivers, and the high frequencies are accommodated by a high-power version of the 28mm Esotec T-330 DA dome tweeter that is considered the finest dome tweeter available. All of the drivers are ferrofluid cooled, which is a benefit only made possible on low frequency drivers by the use of custom designed ferrofluid compounds applied to very tightly tolerated voice coil gaps – a feature that is absolutely unique to Dynaudio Acoustics.
Dynaudio Acoustics M3A Features and Specifications
Unique linear phase frequency response
Every monitor is matched to any other monitor within ± 1.5dB
28mm ESOTAR soft dome tweeter with aluminum voice coil
Dual 150mm magnesium silicate impregnated polypropylene (MSP) midrange drivers with 75mm voice coils
Dual 300mm polypropylene bass drivers with exceptionally large 100mm aluminum voice coils, offering dramatic improvements in power handling, bass response and distortion figures over conventional systems
Gold plated professional binding posts accepting heavy-gauge speaker cable
Heavy internal damping for minimum cabinet resonance
Thermal protection of the tweeter
Frequency response: 30 Hz – 20 kHz
129 dB SPL @ 1 meter
Dimensions: 770 mm (H) x 550 mm (W) x 500 mm (D)
Weight: 55 kg.
Lab.gruppen PLM 10000Q
The PLM 10000Q amplifier delivers an impressive 4 x 2,300 watts at 4 ohms and is based on technology from Lab.gruppen's highly acclaimed and road-proven FP+ series. PLM 10000Q is based on Lab.gruppen's patented Class TD amplifier design that offers the proven efficiency of Class D amplification with the amazing, sonic purity of Class B designs, but that is not all. A new circuit provides substantially greater current-carrying capabilities, and the Regulated Switch Mode Power Supply (R.SMPS) is optimized to deliver full power during long low-frequency bursts as well as maintain stable rail voltages despite fluctuating line voltage. Finally, advanced cross-overs inside the PLM 10000Q feed its four output stages, allowing for optimized RMS and true-peak limiter settings for the lo and mid/hi drivers.
Lab.gruppen PLM 10000Q Features and Specifications
2350 W per channel @ 2 ohms, 2300 W per channel @ 4 ohms, 1300 W per channel @ 8 ohms**
2 unit 19" chassis weighing only 13.5 kg
Input connection: Analog, Digital, Dante
Class TD® output stage
Regulated Switch Mode Power Supply (R.SMPS™)
Copper-finned Intercooler® with transverse-mounted output devices
Full suite of protection and fault monitoring features
Primary and secondary network connections (for daisy chaining or system redundancy)
Digitally controlled 'amplifier gain' adjustable in 0.1 dB steps from 22 to 44 dB
Digital output attenuation in 0. 25 dB steps from –inf to 0 dB
Binding post or Neutrik® Speakon® (1 x NLT8, 2 x NLT4) power output connectors
Digitally implemented, zero-overshoot Inter-Sample Voltage Peak Limiting (ISVPL™) adjustable in 0.1 V steps from 17.8 to 153 V
Power Average Limiter (PAL)
Lake and TC Electronic processing
Having the perfect monitors and amplifier is one thing. Making them deliver divine audio quality in any room is another – and this is where unique Lake processing makes all the difference. Lab-gruppen's PLM 10000Q amplifer holds two full-featured Lake Processor modules, each offering precise settings for gain, delay, crossover slope, equalization and limiting that provide unparalleled power to correct, shape and optimize any sound source for any control room. Exclusive Lake Processing algorithms are included for Raised Cosine Equalization, linear phase crossovers, LimiterMax loudspeaker protection, and Iso-Float ground isolation. Raised Cosine Equalization is the foundation for the Lake Mesa EQ and the Ideal Graphic EQ, the two revolutionary EQ interfaces used by the Dolby Lake Processor. Mesa EQ offers asymmetric filtering to match the asymmetric responses of many loudspeaker systems while the Ideal Graphic EQ offers true sum-to-flat response, so the adjustments provide uniform boost and cut along with greater selectivity.
Lake processing Features and Specifications
Raised Cosine Equalization™
Linear phase and classical crossovers
LimiterMax™ – peak and RMS limiters
Iso-Float™ ground isolation
Super Module capability
Integration of third-party frequency measurement and analysis via Lake Analyzer Bridge
PLM3A is high-SPL, low-distortion calibrated monitoring.
Available: Now; Price: $18,000 / €13,950 (ex VAT)
Sources: Dynaudio Acoustics