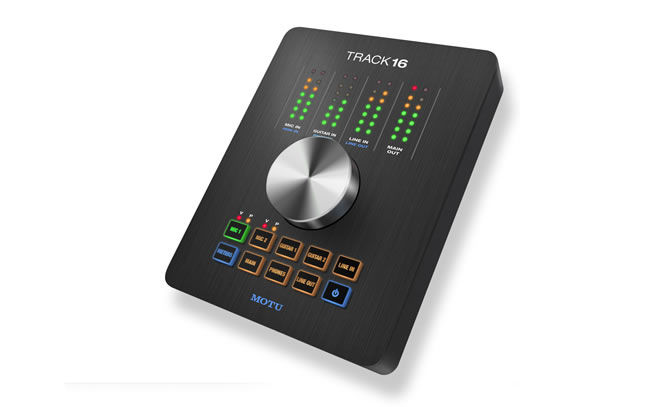 Motu has announced that is now shipping its newest 16×14 desktop studio audio interface, Track16. "Track16 combines studio-grade recording with one-touch operation," said Jim Cooper, Motu Director of Marketing. "Just push the button for the channel you want to control and turn the knob. Track16 delivers all the I/O you need for a well-equipped desktop studio, combined with a smart-looking design that brings high-end feel to your system."
Motu Track16 Audio Interface is connecting through FireWire and USB 2.0 and comes with a breakout cable, optical digital I/O, Midi I/O and SMPTE time code sync. Advanced features include a 16-bus digital mixer (with reverb, EQ, and compression), audio analysis tools such as an FFT with spectrogram "waterfall", and an instrument tuner.
Motu Track16 Top Features
# Hybrid FireWire/USB 2.0 connectivity | Connects to your Mac or PC via either bus-powered Firewire or hi-speed USB2.
# One-touch operation | Simply tap the input or output you wish to control with the main knob.
# Compact desktop form factor | Sits neatly next to your computer keyboard or laptop.
# 16-bus digital mixer | Routes and mixes all sixteen inputs to any output pair.
# Eight separate stereo mixes | Each output pair (main outs, line outs, phones, 4x optical, and a return bus) can have a completely different mix of all eight inputs, with or without computer tracks.
# Two mic inputs | 2x pre-amp equipped mic inputs with individual 48V phantom power, -20 dB pad, Precision Digital Trim™, and plenty of gain.
# Two guitar inputs | 2x hi-Z guitar inputs with Precision Digital Trim.
# Stereo line inputs | On balanced TRS quarter-inch jacks. Connect a keyboard, synth, drum machine or other analog source.
# Stereo main outs | On balanced TRS quarter-inch jacks. Connect directly to powered speakers (or other line-level analog destination).
# Stereo line outs | Separate line-level outputs for secondary studio monitors or other destination.
# Two headphone outputs | Can't find your headphone adapter? No problem. Both a quarter-inch and eighth-inch jack are provided. Or connect two pairs of phones simultaneously.
# Support for HD audio | Supports standard sample rates up to 192 kHz.
# Precision Digital Trim™ | Digitally controlled analog trim on all inputs provides adjustments in approximately 1 dB increments. Fine-tune the balance of your inputs and then save/recall trim configurations.
# CueMix™ FX cross-platform mixing software | Attractive on-screen graphic mixing with an instrument tuner and audio analysis tools including real-time FFT display, spectrogram "waterfall" display, oscilloscope, X-Y plot and linear or polar phase analysis.
# Stand-alone operation |Bring the Track16 to your gig, with or without a computer. Just plug in the included power adapter and you are ready to go.
# Expandable | Add additional interfaces for more I/O as your needs grow.
# Time code support | Directly resolves to (or generates) time code via any quarter-inch input or output, without the need for an extra synchronizer.
# Direct Digital Synthesis™ (DDS) | DSP-driven phase lock engine and internal clock source produces imperceptibly low jitter characteristics (below the noise floor), even when the Track16 is resolved to an external clock source via SMPTE time code.
# DC-coupled TRS outputs | Can be used with Volta™ (sold separately) to manipulate and sequence voltage-controlled modular synthesizers from a host DAW.
# Plug-and-play operation with your Mac or PC via FireWire or USB2 | Compatible with all current and recent generation Macs and PCs.
# Native 32- and 64-bit drivers for Mac OS X and Windows 7/Vista | Includes ASIO, WDM, Wave, Core Audio, and Core MIDI drivers. Supports all popular Mac and Windows audio software.
# Fully compatible with 3rd-party software | 100% compatible with all host-based effects processing in today's popular audio programs.
# Includes audio workstation software | Includes AudioDesk full-featured sample-accurate workstation software for the Mac with recording, editing, mixing, real-time 32-bit effects processing & sample-accurate sync.
# Bus-powered FireWire operation | No need for external power when operating as a FireWire interface connected to a computer. A power supply is included for stand-alone or USB2 operation.
# Compact form factor | Chassis dimensions: 5 (W) × 8.375 (L) × 1.125 (H) inches (12.7 × 21.27 × 2.86 cm). Knob height adds approximately 0.5 inch (1.27 cm) from the top surface.
# Included breakout cable | Included DB25 breakout cable with audio connectors is approximately 44 inches (111.76 cm) long.
# Track16 breakout box (sold separately) | Connects to Track16 via a custom-designed DB25-to-DB25 cable (included with the breakout box) and provides all the same connectors as the Track16 cable.
Motu Track16 Tech Specs
# Converters: 24-bit
# Sample rates: 44.1, 48, 88.2, 96, 176.4, 192 kHz
# Analog inputs: 2 x XLR mic inputs / 2 x 1/4″ TRS line inputs (balanced/unbalanced) / 1 x 1/8″ stereo "mini" line inputs (unbalanced) / 2 x 1/4″ hi-Z guitar inputs
# Analog outputs: 2 x 1/4″ balanced TRS main out / 2 x 1/4″ unbalanced TRS line out / 1 x 1/4″ TRS stereo headphone / 1 x 1/8″ stereo headphone
# Digital I/O: 8-channel ADAT optical at 1x sample rates / 4-channel SMUX optical at 2x sample rates / 2-channel TOSlink (optical S/PDIF) up to 96 kHz
# Computer I/O: 1 x FireWire 400 (Type B connector) / 1 x USB 2.0
# Sync in/out: SMPTE time code (LTC)
# Headphone output: 1 x 1/4″ TRS stereo phone / 1 x 1/8″ stereo phone
# Phantom power: Individual +48V
# Top panel: 2 x 7-segment ladder LEDs • main outs / 2 x 7-segment LEDs • mic in or line 3-4 in / 2 x 7-segment LEDs • guitar in or phones / 2 x 7-segment LEDs • line in 1-2 or line out / 2 x LEDs • 48V phantom power / 2 x LEDs • -20 dB pad / 5 x backlit switches • input select / 3 x backlit switches • output select / 1 x backlit switch • meters toggle
1 x backlit switch • power
# Power requirements: 9-18V DC, 5W, tip + or FireWire bus power
# DC power adapter included, required for stand-alone and USB 2.0 operation (except with FireWire bus power)
Track16 is available now at Motu dealers worldwide for $595. More details you can find on the product page on the official site.
Source: Motu