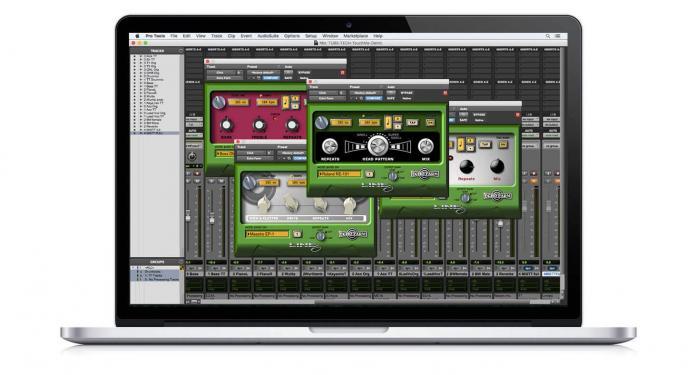 A legendary collection of vintage echo effects and delays, Echo Farm is back now as a 64-bit AAX native plug-in for Pro Tools 11 and higher.
The original Echo Farm plug-ins collection was a staple, found in studios throughout the world, and was heard on countless hit records. You can choose from 12 models based on* vintage hardware units, including Maestro® Echoplexes, Roland® RE-101 Space Echo®, Boss® DM-2, Electro-Harmonix® Memory Man, T.C. Electronic® 2290 and Line 6 originals. You can mix with the detailed sonic properties of tubes, tape and vintage electronics without spending a fortune on bulky outboard gear. Echo Farm left the UI completely unchanged, so you can experience the same familiar workflow that you know and love.
Echo Farm 3.0 Features
Choose from 12 models based on* legendary vintage echo units and Line 6 originals
Easily adjust parameters using the intuitive and easy-to-use interface
Control tape wow n' flutter, filter-swept modulation, bit resolution and more
Settings and presets are 100% compatible with older Pro Tools sessions
Supports sample rates up to 192 kHz for pristine sound quality
Echo Farm 3.0 can be bought from Line 6 Online Store, here. The price is $199.00.