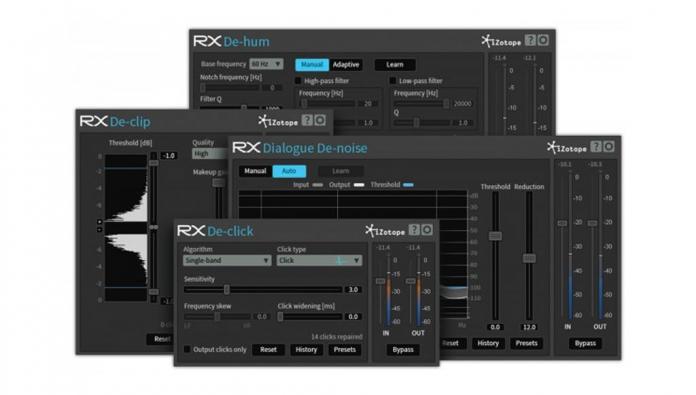 iZotope´s RX Plug-in Pack is an essential collection of plug-ins designed to treat the most common audio issues for those working in less than ideal recording scenarios. Right now it's extremely affordable with over 60% for one week only!
Taken directly from the company's award winning RX 5 software, the RX Plug-in Pack consists of De-click, De-hum, De-clip, and Dialogue De-noise plug-ins – the essential tools for cleaning up audio and avoiding the need to re-record.
Reduce background noise, amp hum, clicks, and other sudden sounds captured when recording voice or instruments.
Don't lose the flow of an inspired performance: remove clipping from a vocal recording that got hotter than expected.
Salvage noisy tracks that were headed for the trash: filter out line hum, buzzes, ground loops, or other unwanted sounds when it's too late to re-track.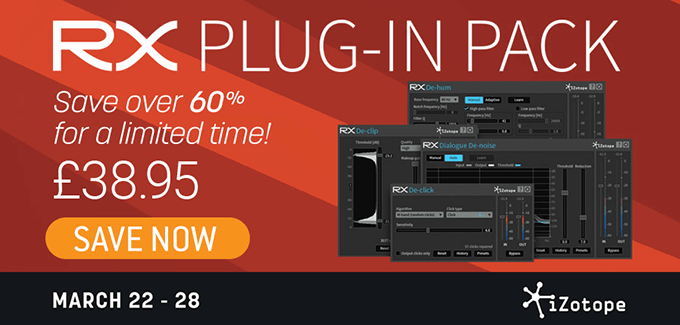 An ideal entry point into the world of RX, RX Plug-in Pack is available to download now for just £38.95 until March, 28th (normally £99.95).
You can find more info here.
Get even more value for your money!
Buy the RX Plugin Pack for just £38.95 and you´ll be eligible to buy iZotope´s award winning Neutron mixing console with free Groove 3 tutorial for just £77.95! Find more details here.
Alternatively, you´ll also be eligible to crossgrade to the iZotope Music Production Bundle – 7 award winning mixing, mastering and vocal production plug-ins with free Groove 3 tutorials for just £235! Find more details here.
Both of these crossgrade options are only available until March, 31st, 2017.