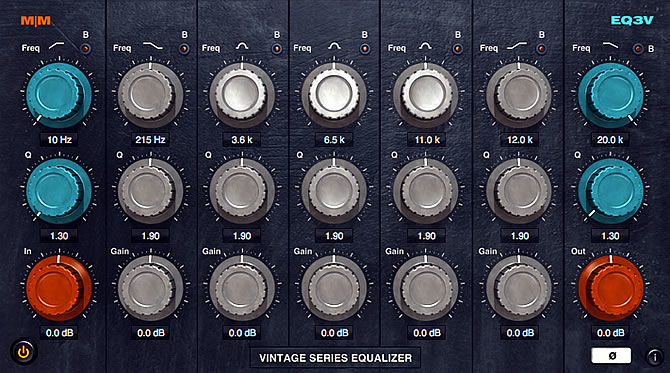 Mellowmuse EQ3V is a 7 band vintage equalizer plug-in. It comes with  5 bands of parametric EQ, plus variable Q High Pass and Low Pass filters. Current values are clearly displayed for all parameters, each EQ section may be individually bypassed. All equalization and saturation algorithms are oversampled, using 64-bit internal processing for superior clarity and resolution.
Mellowmuse EQ3V – Vintage Equalizer Top Features
• High Pass: 10hz – 400hz
• Low Shelf: 30hz – 400hz
• Low Mid Peaking: 200hz – 7.0k
• Mid Peaking: 3.0k – 10.0k
• High Mid Peaking: 8.0k – 14.0k
• High Shelf: 8.0k – 16.0k
• Low Pass: 8.0k – 20k
• Bypass per band, phase invert and overall bypass switch
• Analogue modeled saturation
• 4x Oversampled
• 64-bit internal processing
The price for Mellowmuse EQ3V – Vintage Equalizer is $99. You can download it from the product page on the official site where you can find also more info about it.
Source: Mellowmuse