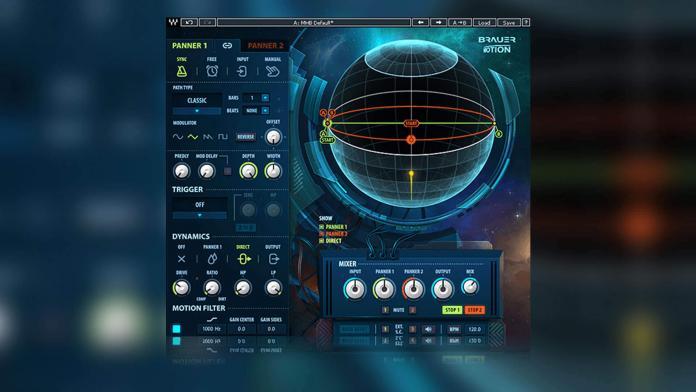 Few sound engineers understand how to add emotional movement to a mix like multiple  Michael Brauer – Grammy®-winning mix engineer does. The tech man behind a lot of top-selling albums or singles from Coldplay, John Mayer, Dave Matthews Band, Florence and the Machine, My Morning Jacket, Bob Dylan, Hall & Oates, Aretha Franklin and countless others, Michael Brauer has a deep understanding of how you can use panning to rock a mix.
Brauer Motion Auto-Panner Waves Plugin takes Michael's mastery of the sound spectrum and lets you control the movement of your sounds unlike anything else in your toolkit. It works especially well on rhythmic tracks such as percussion and acoustic guitar; on swelling pads and organs; or whenever you want to pull the listener in with subtle or drastic panning movement.
Brauer Motion comes with four different panning modes to direct the motion of the sound; four different trigger modes for a variety of on/off options; two panners with full control; a dynamics section; pre-delay, motion filter, and precise control over the speed, width and depth; and a master section with gain and wet/dry controls.
Producers, mix engineers and sound designers will all have a blast creating tracks with Brauer Motion. An audio instrument designed to inject excitement and wonder to your mixes, the creative limits of this plugin are as far as you can take them.
Brauer Motion includes presets from top mixing engineers including Michael Brauer, Dave Pensado, Tony Maserati, Mark Ralph, Ross Hogarth, Tom Elmhirst and Yoad Nevo.
Brauer Motion Auto-Panner Waves Plugin Top Features
4 different panning modes
5 different trigger modes
Two separate panners with full control
Precise control over speed, width and depth
Dynamics section
Motion filter
Master section with gain and wet/dry control
Includes presets from top mixers
Brauer Motion Auto-Panner Waves Plugin is $99 but these days you can buy on sale at $29 on Waves.Com.