Universal Audio (UA) announced the release of the first new Direct Developer plug-ins for the UAD-2 Powered Plug-Ins platform: the Brainworx® bx_digital V2 EQ plug-in and the legendary SPL® Vitalizer MK2-T plug-in.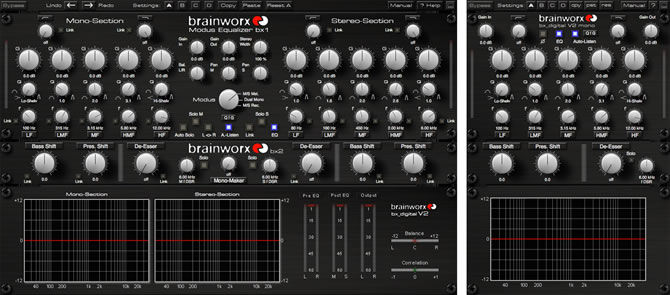 The Brainworx® bx_digital V2 EQ from UAD is an award-winning mastering EQ, named as the "Gear of the Decade" by Future Music Magazine. Universal Audio bx_digital V2 EQ offers three modes — M/S Mastering, M/S Recording, and L/R Stereo – with a unique "SixPack" Master Section, 11-band EQ with Shifter EQs to 22 kHz, and built-in M/S De-Esser, Dynamic EQ, and extensive metering options. An included bx_digital V2 Mono plug-in provides the same Mastering EQ – quality sound for mixing applications.
Watch online Universal Audio Brainworx bx_digital V2 EQ Plug-In Video Presentation on the Official You Tube Account of Audio Pro News.

The SPL® Vitalizer MK2-T is an authentic emulation of the popular tube-based Vitalizer hardware unit, a longtime staple of top mixing and post-production engineers. Offering a patented technology for greater perceived loudness and clarity without unnatural artifacts, the Vitalizer provides independent Bass and Mid-Hi processing that works in both the time and frequency domains to effectively unmask overlapping sounds. As both a fixative and an enhancement tool, the Vitalizer MK2-T is a mixing must-have.
These new UAD-2 Powered Plug-Ins are noteworthy both in their unique sonic capabilities, as well as their being developed in their entirety for the UAD-2 platform by the software engineers at SPL and Brainworx — two of the audio industry's most respected brands – as part of a new UAD-2 SDK (software development kit).
Watch online Universal Audio SPL Vitalizer MK2-T Video Presentation on the Official You Tube Account of Audio Pro News.
"With the opening of the UAD-2 Powered Plug-Ins platform to select Direct Developers, we wanted to start with partners that would deliver exceptional results. That meant turning to our friends at SPL and Brainworx," commented Matt Ward, president of Universal Audio. "The SPL Vitalizer and the Brainworx bx_digital V2 have already proven themselves as standout mixing tools on Mac and PC. Now they are available to UAD-2 DSP Accelerator owners, offering a way to offload processing power for running more tracks and virtual instruments on the host computer."
"We're extremely pleased to see the new UAD software version being released and featuring our first SPL & BX plug-ins for the UAD-2 community," says Dirk Ulrich, CEO of Brainworx and head of SPL Software. "We spent many months developing the SDK with UA, and it´s been a lot of work and a lot of fun at the same time. Now it´s time for UAD-2 users to rock the new SPL & BX tools UA is offering them with this new release. Enjoy!"
Available for purchase via UA's Online Store, the Brainworx bx_digital V2 EQ sells for $329.00, and the SPL Vitalizer MK2-T sells for $249.00.
The Brainworx bx_digital V2 EQ and SPL Vitalizer MK2-T plug-ins are now available as part of the new UAD Software v6.0 release, which includes the new Ampex® ATR-102 Mastering Tape Recorder Plug-In, as well as significant improvements to Pro Tools and support for Mac OS X Lion.
More information on the Brainworx bx_digital V2 EQ Plug-In: http://www.uaudio.com/store/equalizers/brainworx-bx-digital.html
More information on the SPL Vitalizer MK2-T Plug-In: http://www.uaudio.com/spl-vitalizer-mk2-t.html
UAD Software v6.0 is available as a FREE download for Mac and PC users worldwide: http://www.uaudio.com/support/uad/downloads.html
Learn more about the award-winning UAD-2 Powered Plug-Ins platform here: http:// www.uaudio.com/uad-plug-ins.html
Source: Universal Audio Press Release