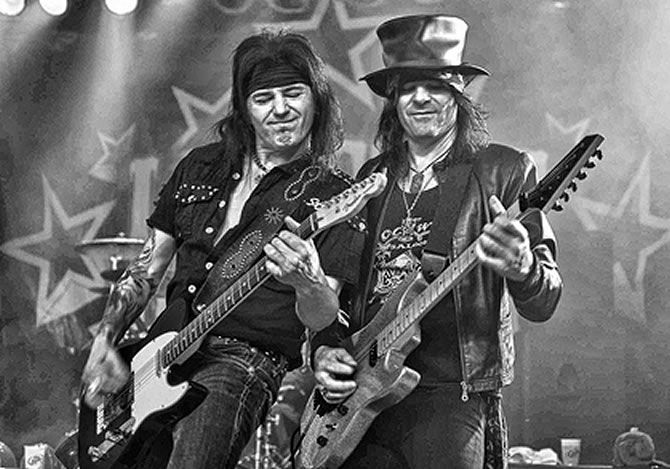 Soundtrack Loops announces Stacey Blades Pro Rock Guitar Sessions Royalty Free Audio Stems. Stacey Blades Pro Rock Guitar Sessions is a well-rounded royalty free set of multi-purpose Rock guitar performances for your studio. It places the sounds of the pros right at your finger tips. Perfect – whether you're looking for inspiration or want to drop a wicked solo into the mix. Stacked with mostly electric guitars, this library rips, but it also includes a few acoustic guitar sets for your more vulnerable productions. Drop any stem into your mix as a whole or slice it into bits and create something new.
There are 22 different sessions in 12 different styles/genres including '70s Rock, Hard Rock, Blues, and Acoustic.
Inspired by the bands Van Halen, Mötley Crüe, Ozzy Osbourne, Led Zeppelin, Stray Cats, Eric Johnson, George Lynch, and Stevie Ray Vaughan. Tempos and keys are provided in the file names as well as in the folder structure. Use programs like Sony Acid Pro, Ableton Live, and Logic Pro to slow the guitar down or speed it right up. This extremely versatile library is a must-have for all professional music producers but could also double as a practice tool. 24 bit 44.1kHz Stereo. Performed by Stacey Blades in Hollywood California.
Pricing: Download Price $42.95
Stacey Blades Pro Rock Guitar Sessions is available here.
Stacey Blades is a Los Angeles based guitarist who has played with such bands as Fraidy Katt, Roxx Gang, and L.A. Guns. He has played on the L.A. Guns studio albums Rips the Covers Off, Tales from the Strip, Covered in Guns, Hollywood Forever, as well as the L.A. Guns live album, Loud and Dangerous: Live from Hollywood.
He joined L.A. Guns in 2003. For a decade, Stacey enmeshed himself in the band, becoming a greater addition with every album and every tour. From the influential Tales from the Strip to 2012's critically-acclaimed Hollywood Forever, Stacey showcased his well-honed brand of guitar playing and songwriting. With L.A. Guns, Stacey has shared the bill with Alice Cooper, Whitesnake, The Scorpions, Dokken, Skid Row, Warrant, and more. He's been around the world and on the bill of many prestigious music festivals including M3 (of which a live show DVD was released in January 2013). Stacey has also been in every music magazine including Rolling Stone, Spin, Metal Edge, and Premier Guitar to name a few.
In April 2009, Stacey wrote and published a very revealing and often-humorous autobiography, "Snake Eyes: Confessions of a Replacement Rock Star". The book received high marks from fans all over the world. In 2010, Stacey also released his first ever solo instrumental album, Symphonic Slam. It is a remarkable collection of rocked-out classical numbers by Strauss, Bach, Handel, and even Beethoven. At the end of 2012, Stacey left L.A. Guns to pursue more personal opportunities for performing and songwriting. He is currently collaborating with SixString, the guitar community app, and creating guitar-based soundbites for TV, film, and audio mixes with Soundtrack Loops. He can also be seen playing live with The Hard Rock All-stars.
Source: Soundtrack Loops Press Release