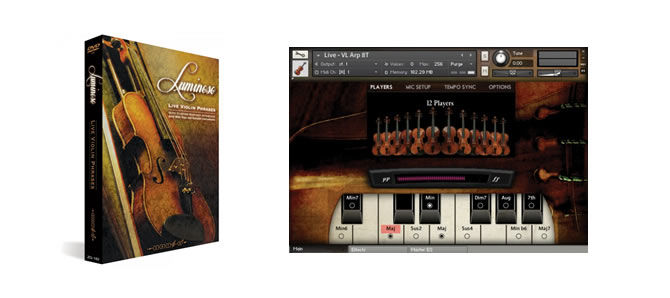 "Luminoso Live Violin Phrases" is the newest release from Zero-G available on TimeSpace.Com virtual instruments, vst plugins and sample libraries online store. Zero-G Luminoso Live Violin Phrases was produced by Dan Graham, well-known composer for Zero-G, also guilty for another "hits" … Animato and Spiritoso Samples Libraries.
Performed by two world-class violinists from the Liverpool Royal Philharmonic Orchestra, Luminoso: Live Phrases is a 15GB collection of thousands of live recorded 6-bar looped phrase. Despite recording only two players, the instrument cleverly layers up to 6 different bars in real-time for the effective sound of a 12-piece string section, or if you wish, you can dial it down to the sound of a solo violin.
Luminoso Live Violin Phrases bridges the gap between premium string libraries which have excellent control, but can sound artificial on certain passages (such as runs, arpeggios, fast rhythms), and ´pre-recorded melodic phrases´ libraries, which can sound dazzling on first listen but have little useful control and can grow tired quickly.
The price for Luminoso Live Violin Phrases is £99.95 / €115.00. It is available now as a DVD or download on TimeSpace.Com.
More info, demos and download link you can find on the product page.
Source: TimeSpace.Com Press Release