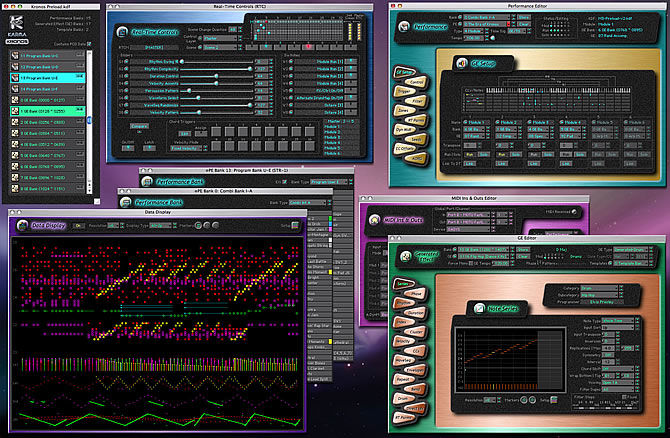 Karma-Lab has announced Karma Kronos Software, a dedicated PC/Mac Program for the Korg Kronos (US $169). Designed by Karma Developer Stephen Kay, Karma Kronos (KK) allows you to go deeper into the world of the Karma algorithmic music function, in ways that are not possible on the Kronos alone.  Karma Kronos's main features include the ability to develop your own Generated Effects (GE's) for unlimited musical possibilities, or edit the factory GEs into new configurations. Import .MID files and grab phrases directly from the Kronos sequencer, and instantly turn them into GEs, with all real-time controls assigned for instant variability. Then, upload the new GE's to the Kronos's 1536 User GE locations and take them on the road.
Rich Formidoni, Korg Technology Product Manager, says, "Being able to create and edit your own GEs greatly expands the potential of Karma within the Kronos Music Workstation, making Karma Kronos a must-have accessory."
Karma Kronos also provides some more features not found in the keyboard, such as 32 Scenes per Module per Performance (instead of 8), 16 Chord Trigger Buttons (Pads) per Performance instead of 8, the ability to give each Module and Scene a descriptive name, 6 individual Karma Modules (instead of just 4), and more. These features cannot be imported into the Kronos, but are available while using the software. And for the truly adventurous, you can run KK as an additional 6 modules at the same time as using the 4 modules of the internal Karma Function in the Kronos, for up to 10 modules – it's like having the Karma of two and a half Kronos at once!
The program runs on Windows XP/Vista/Win7 and Mac OS X. And in keeping with Karma-Lab's usual policy, a discount on the purchase price is provided to previous customers who have purchased Karma software for other keyboards in the past. More information, including links to documentation, tutorials and user forums, can be found at karma-lab.com/kk.
Karma-Lab Karma Software Top Features
    Complete access to the 400+ parameters making up a Karma GE (Generated Effect). These parameters are mostly hidden in the Kronos with a maximum of 32 being available (per GE), but you can view and edit all of them using the software, along with the Performance parameters associated with each Karma Module.
    Graphical editing and creation of Drum Patterns, Rhythm Patterns, Duration Patterns, Index Patterns, Cluster Patterns, Velocity Patterns, CC Patterns, Wave-Sequence Patterns, Envelopes, Note Maps, and more!
    Create new GEs, and edit existing GEs into new configurations. Download the GEs to the Kronos via MIDI SysEx Dump, or via export to a .KGE file.
    One-step MIDI (SysEx) upload/download of Programs and Combis.
    Import phrases and drum grooves exported from the Kronos's internal sequencer, or from any .MID source (such as external sequencers) and transform them into Karma GEs. Automatically assign GE Parameters and RTC Models and instantly begin varying your phrase in the amazingly interactive Karma manner.
    Captivating, real-time visual display of the generated MIDI data.
    Popup tooltips and context-sensitive Help provide comprehensive documentation of all features.
    Available for both Mac OS X and Windows platforms.
Source: Karma-Lab Press Release