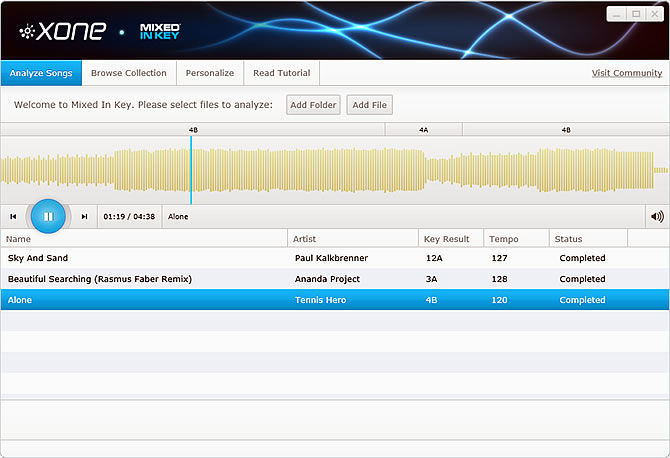 Mixed In Key has released Xone Mixed In Key 5 with a lot of new functions added such as multi-core support, on-screen audio player, multiple-key recognition and a powerful new key-detection algorithm.
Xone Mixed In Key is one of the most useful software for DJs and it is used by the authorities in this field like  David Guetta, Pete Tong, or Kaskade. The software accurately identifies the keys and tempos of digital music files, making it easy for DJs to create mashups and play perfect DJ sets. The new version, Xone Mixed In Key 5 offers multi-processor support for both Mac and Windows, introduces a new audio player, which lets users audition the key-detected songs and samples from within the software and also added M4A and MP4 (video file) support.
The new key-detection algorithm of Xone Mixed in Key 5 provides enhanced levels of accuracy, key changes being clearly display in the waveform area of the Audio Player, allowing users to see, where in the song the change occurs. The new algorithm analyzes the song or the track as a series of beat-aligned segments offering to remixers and producers the possibility to use Xone Mixed In Key when working with sample and loop libraries, making it easier to find files in the same key.
Xone Mixed In Key 5 uses the same used Camelot Wheel system, which displays key names on a circular chart that is numbered and colour-coded but in version 5, a clickable Camelot Wheel offers an elegant new way to see key-detected material. Once the software has analysed, a collection of songs (for example, an iTunes library), clicking on a key name on the Camelot Wheel instantly brings up a list of all the files in that key, making song selection a snap.
"Mixed In Key 5 is the professional DJ's choice for harmonic mixing. It's a powerful DJ tool that connects with your favorite DJ software and DJ hardware, and makes it possible to mix harmonically regardless of your medium," says Yakov Vorobyev, president of Mixed In Key. "We love it when people use Mixed In Key with Traktor, CD-Js, Serato Scratch Live, and all other DJ and sequencer apps – it works perfectly with them and takes your DJ sets to the next level."
Mixed In Key costs $58 (US).  You can buy it online from Xone.MixedInKey.com
Source: Allen & Heath / Mixed in Key