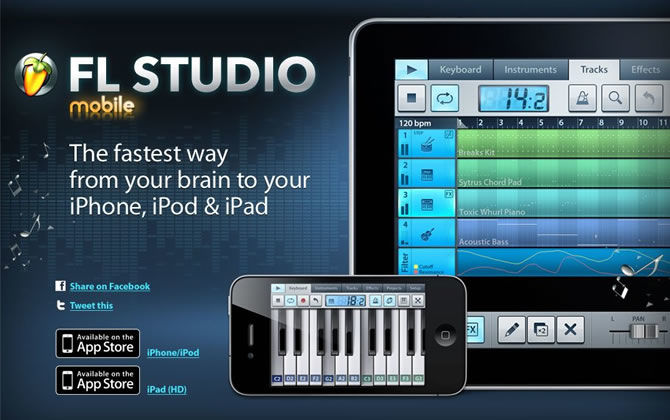 Image-Line announced that their long waited "facelift" for iPhone, iPod and iPad of Fruity Loops Studio is available. There are now two versions of the Fruity Loops Studio Mobile: Fruity Loops Studio Mobile for iPhone & iPod Touch, G3 & G4 with Retina display support at $14.99 introductory and $19.99 after and also Fruity Loops  Studio Mobile HD for iPad 1 & iPad 2 at $19.99 introductory and $24.99 after. Also, Image line announced that Fruity Loops Studio Mobile for Android is on the road.
Image Line Fruity Loops Mobile Top Features
Load and extend projects in the FL Studio desktop version
Resizable, stackable piano keys & reconfigurable drum-pads
Stuffed with FL Studio quality instruments, drum kits & loop files
99-track sequencer, Piano roll editor & Step sequencer
WAV, MIDI & FLM (project) import/export
iPad HD version, iPhone 4 Retina Display support
Compatible with the Akai SynthStation 25
Image Line Fruity Loops Mobile FAQ
What about Android OS? It's on the roadmap, stop nagging! We have a development team working on a low-latency Android audio-engine and there are many screen resolutions and device specifications to consider, it's not as simple as you may think .
Does this mean FL Studio on Mac OSX soon? FL Studio Mobile is not a port of the Windows version of FL Studio. It is the product of a completely separate development team, and code, so FL Studio Mobile, while compatible with FL Studio has no impact on FL Studio development and vice versa.
Can I load my own samples? Not in version 1.0. We plan to enable user uploads in a future update.
Can I use VSTs? No, iOS does not support VSTs and frankly the devices it runs on don't have the CPU power to do the synthesis you are used to on a desktop. FL Studio Mobile uses high quality sample based instruments made from Image-Line plugins and sample packs.
More details and informations you can find directly on the official site.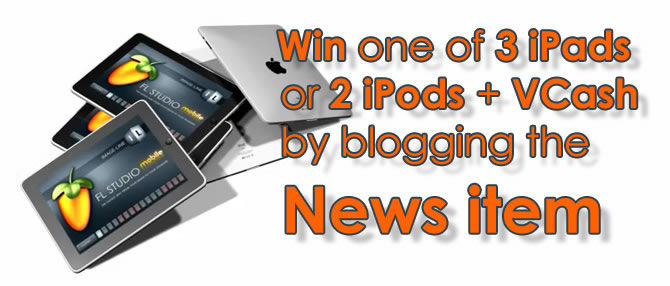 For your chance to win all you need to do is blog the official Fruity Loops Studio Mobile news item with a link on your Facebook Page or Website and report it on the Image Line's Official Forum. On July 5 2011 the guys from Image line will randomly pick 5 winners to receive:
1st – iPad 2 + FL Studio Mobile HD + $500 VCash
2nd – iPad 2 + FL Studio Mobile HD + $400 VCash
3rd – iPad 2 + FL Studio Mobile HD + $300 VCash
4th – iPod Touch + FL Studio Mobile + $200 VCash
5th – iPod Touch + FL Studio Mobile + $100 VCash
Source: Image-Line.Com