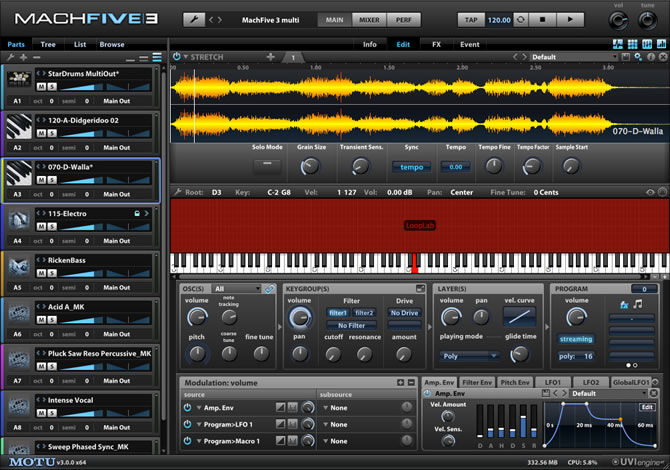 MOTU announces Mach Five 3, the newest version of their Machfive Sampler Software. Rebuild from the ground up, the all new Motu Mack Five 3 delivers state-of-the-art virtual instrument technology to your desktop studio. Below you can find some of Motu MachFive 3 Sampler features.
MOTU MachFive 3 Software Sampler Features
# 45GB of incredible content
# 11 sound engines, powerful tools, infinite possibilities
# 47 real-time effects to spice up your sounds
# Powerful sampling software/plug-in perfect for any kind of music creation and sound design
# Massive 45GB sound library (7 DVDs) features loops, phrases, sounds, and advanced multi-sample instruments with dynamic performance powered by state-of-the-art scripting technology
# Unique, unified design provides instruments, loops, phrases, synthesis and FX in one easy-to-use window
# Scripting engine with unlimited layers delivers ultra-realistic multi-sample instruments, dynamic performance, and unlimited possibilities for programmers and sound designers
# Cutting-edge time-stretching, pitch-shifting & granular synthesis licensed from the IRCAM research institute
# Universal support for all major 3rd-party hardware/software sample formats allows for consolidated sound library management
# Internal graphic mixer with faders, FX inserts, and unlimited channels
# Flexible effects architecture with 47 different effects, including convolution reverb, applied at any level you determine
# Advanced, yet accessible modular synthesis architecture with eleven sound engines and flexible modulation matrix
# Full-screen editing lets you dive into a rich sound design environment with comprehensive automation and modulation
# Combine instruments and tempo-synced loops. Layer synths and sample-based parts
3rd-generation UVI Engine interface
# Submix to 17 stereo output pairs
# Disk streaming conserved RAM and shortens load times
# Unlimited polyphony with ultra-low software latency
More information and also the download link you can find on the official site.