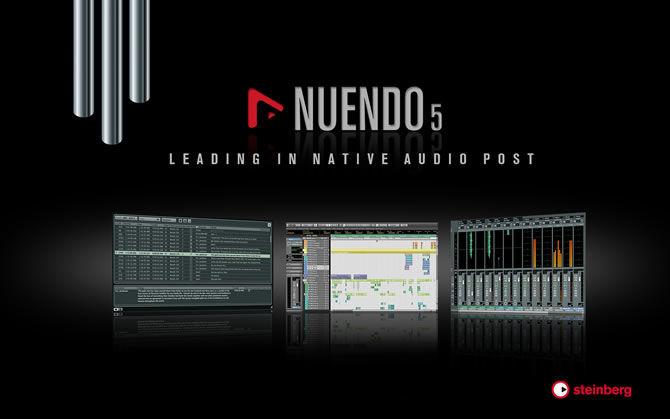 Steinberg has announced and has released Nuendo 5.5.4, a new maintenance update for its advanced audio, live and production software solution.
Nuendo 5.5.4 introduces RF64 file support for audio files larger than 4 GB and is fully compatible with Steinberg's new live-recording software, Nuendo Live. The Nuendo Live project file can directly be opened within Nuendo, making it easy to transfer live-recorded audio material to the post-production studio.
The update is now available free of charge for all Nuendo 5 customers from the Steinberg website. For detailed information on all fixes and enhancements, please check the corresponding version history on the download page.
Nuendo 5.5.4. Issues Resolved
# B318 Tempo track: The user interface now remains responsive when the Tempo track is enabled.
# B163 / B253 MediaBay: Closing Nuendo while a plug-in user interface or the video window is opened does no longer lead to a serious error.
# B238 Editing: Audio events no longer lose their "on top" status after being moved.
# B200 Audio: Hitpoint detection no longer results in different calculation results at 96 kHz.
# B196 Plug-in: When saving and loading Prologue presets, the fine-tune values are restored correctly now.
# B339 Plug-in: REVerence now shows the right location path to user-imported IR files.
# B205 VST Dynamics: Placing different parts that contain VST Dynamics events on the same track now works as expected.
# B246 VST Dynamics: Under specific playback situations VST Dynamics events could translate to wrong velocities.
# B344 MacBook Pro: When using a MacBook Pro with
Source: Steinberg Press Release