Steinberg announces Steinberg Elements Pack, their software bundle with Cubase Elements 6 and WaveLab Elements 7. Steinberg Elements Pack is trying to put in one place about everything you need for music production and audio processing at an exceptional price
Steinberg Cubase Elements 6 turns your computer into a fully featured music production system. Its composing, recording and mixing tools are based on proven Cubase 6 technologies that professionals rely on worldwide. Cubase Elements 6 features 33 audio effect processors, including PitchCorrect for easy and automatic vocal correction. With the Groove Agent ONE beat production instrument, the Prologue synthesizer and the HALion Sonic SE workstation instrument, Cubase Elements 6 offers more than 550 instruments and sounds to supercharge your creativity.
Cubase Elements 6 Top Features
Turns any computer into your very own music production system
Based on proven Cubase technology used by professionals worldwide
State-of-the art audio/MIDI recording, editing and mixing tools
Award-winning 32-bit floating-point Steinberg audio engine with flexible routing and fully automatic delay compensation
64 MIDI and 48 audio tracks simultaneously in DVD quality (24-bit/96 kHz)
Includes outstanding virtual instruments with over 550 presets: HALion Sonic SE workstation, Prologue synthesizer and MPC-style Groove Agent ONE drum machine
Comes ready with 33 audio effect processors, including Pitch Correct for vocal intonation correction and the greatsounding AmpSimulator
Streamlined score editing feature set
Real-time pitch-shifting and time-stretching
Project Assistant with dozens of templates for quick setup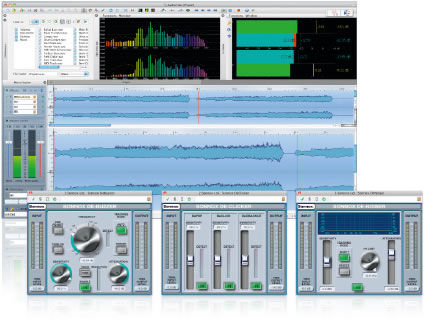 Steinberg WaveLab Elements 7 combines state-of-the-art audio technology from WaveLab 7 with a streamlined workflow and a comprehensive host of professional tools, delivering uncompromising quality when it comes to audio editing, restoration and podcasting. WaveLab Elements 7 also features an array of VST 3 plug-ins such as StudioEQ and VST Dynamics, superbly complemented by a premium restoration suite by Sonnox.
WaveLab Elements 7 Top Features
New session management concept with Workspaces
15 first-class VST 3 plug-ins including StudioEQ, VSTDynamics, Compressor and Gate (including three Sonnox plugins)
Audio Montage and Audio File Workspace, basic selection of editing and analysing tools as well as marker support
High-end restoration suite from plug-in specialists Sonnox, consisting of DeNoiser, DeClicker and DeBuzzer
Completely new burning engine
Audio analyzing and metering tools, including 3-D spectrum view and Spectroscope
DIRAC 2.2 time-stretching and pitch-shifting algorithms
Extensive podcast functionality, including easy-to-use publishing features
Enhanced WaveLab help system
Cross-platform: Windows 7 and Mac OS X 10.7 compatible
Steinberg Elements Pack is the perfect choice for aspiring producers who wants to record and edit music digitally. As a time limited offer, this bundle is only available until end of this year.