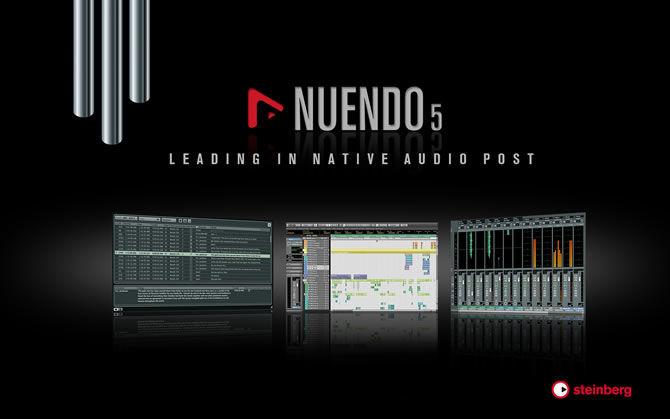 Steinberg announces the Nuendo 5.5 update. With more than 20 new and enhanced features in the areas of audio editing and mixing, Steinberg Nuendo 5.5 represents the biggest free update in the ten-year product history.
"Nuendo 5.5 is a must-have for audio editing and mixing professionals," comments Timo Wildenhain, Steinberg's product marketing manager for Nuendo. "And I'm also happy to announce that Nuendo 5.5 is free of charge for registered Nuendo 5 customers," Wildenhain continues.
Steinberg Nuendo 5.5 introduces a variety of advanced multitrack editing features that will make audio editing even more efficient. Highlights include a time-saving take comping system and phase-stable audio quantization across multiple tracks. The new élastique Pro time-stretching and pitch-shifting algorithm, improved automation data editing, enhanced offline processing and extended compatibility with Pro Tools audio files further enhance Nuendo's excellent performance. Plus, the 5.5 version also adds new creative tools and functions such as the VST Amp Rack plug-in and extended Quick Control functionality.
The optional 5.5 update for the Nuendo Expansion Kit (NEK) features the groundbreaking VST Expression 2 technology and the HALion Sonic SE workstation alongside superior groove production tools such as LoopMash 2 and Groove Agent ONE 1.2.  Since Nuendo 5.5 and NEK 5.5 are built on a refined code base, both updates are available as full download versions. Registered customers can download the update free of charge from the Steinberg website. For the first time ever, Nuendo 5.5 is also available as a free, downloadable trial version. Steinberg Nuendo 5.5 Trial can be tested without restrictions for a period of 400 hours.
New features in Nuendo 5.5
Download Nuendo 5.5 and NEK 5.5
Download Nuendo 5.5 Trial
Steinberg Nuendo 5.5 Top Features
# Leading native audio post-production environment
# Toolset for ADR work and new native video engine
# Extended project exchange, including MXF Audio support and EDL lists
# Superior editing features and smooth new scrubbing engine
# Unique Nuendo Surround Panner V5 and more new VST 3 plug-ins
# Extended automation system with "flexible passes" technology
# World-class mixing and routing features with automatable mix buses
# Completely reworked MediaBay with networking capabilities
# Network collaboration for multi-seat projects via LAN or WAN
Sources: Steinberg.Net