Two new additions to MPC Music Production Controllers has been announced by Akai … Akai MPC Renaissance and Akai MPC Studio. Both will be officially launched at NAMM.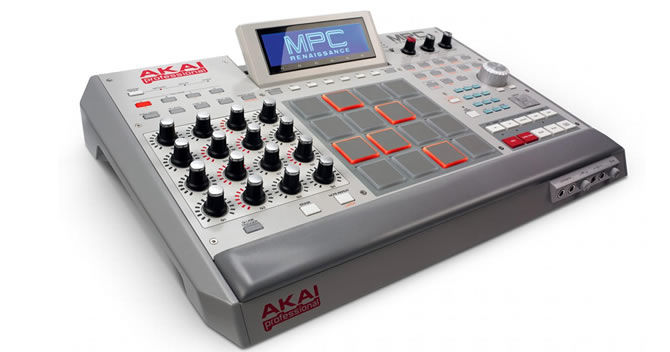 Akai MPC Renaissance
Fusing Akai Professional´s legendary MPC layout and workflow with the power of your computer, Akai MPC  Renaissance is an unrivaled instrument for music production. The new flagship is a fully integrated  hardware/software system: MPC Renaissance allows you to create using classic hardware controls and  an integrated pop-up display, while it´s exclusive MPC Software empowers you with unprecedented,  expandable production capabilities on your Mac or PC.
Akai MPC Renaissance Hardware Top Features
# Fuses legendary MPC production with the processing power of your computer
# Vintage Mode changes output sound character to MPC3000, MPC60 and more
# 16 backlit genuine MPC pads, 16 Q-Link controls, and adjustable backlit LCD screen
# Classic MPC Note Repeat, MPC Swing and MPC transport controls
# MPC SOFTWARE for Mac or PC with 64-track sequencing capability
# Two XLR-1/4″ combo inputs and dedicated turntable input
# Four-channel US B 2.0 audio interface and two-port US B 2.0 hub built in
# Up to eight pad banks – more than any other MPC ever
# Two MIDI inputs and four MIDI outputs
# Stereo 1/4″ out, stereo assignable mix 1/4″ out & S/PDIF I/O
Akai MPC Renaissance Software Top Features
# 64-track sequencing capability
# Massive 6GB+ sound library, including all of the sounds of the classic MPC3000
# Instant mapping and real-time adjustment of VST plug-ins
# Record each track as an MPC drum program, Keygroup program or VST plug-in
# Works alone as your DAW or works seemlessly with your current studio as a VST/AU/RTAS plugin
# Supports WAV, MP3, AIFF, REX and SND
# Supports samples and sequences from any MPC ever made
# Mac and PC-compatible
Akai MPC Studio
Akai MPC Studio offers the most streamlined MPC experience yet. At under one-inch thin, with low-profile  controls and a brushed aluminum body, it´s made to move. MPC Studio merges real MPC pads, iconic  workflow, and the same MPC Software used by MPC Renaissance to give you a fully integrated portable  production solution.  Welcome to production anywhere. The world is now your studio.
Akai MPC Studio Top Features 
# Fuses legendary MPC production with the processing power of your computer
# Compact design is less than 1″ thin and fits easily into a laptop bag
# MPC SOFTWARE for Mac & PC with 64-track sequencing capability
# 16 backlit genuine MPC pads, legendary MPC workflow & MPC Swing
# USB-powered with low-profile knobs and brushed aluminum body
# Large LCD screen allows you to make tracks without having to look at your computer
# Four touch-sensitive knobs provide enhanced MPC software control
Akai MPC Studio Software Top Features
# 64-track sequencing capability
# Massive 6GB+ sound library, including all of the sounds of the classic MPC3000
# Instant mapping and real-time adjustment of VST plug-ins
# Record each track as an MPC drum program, Keygroup program or VST plug-in
# Works alone as your main DAW or works seamlessly with your studio as a VST/AU/RTAS plugin
# Supports WAV, MP3, AIFF, REX and SND
# Supports samples and sequences from any MPC ever made
# Mac and PC-compatible
Source: Akai Pro