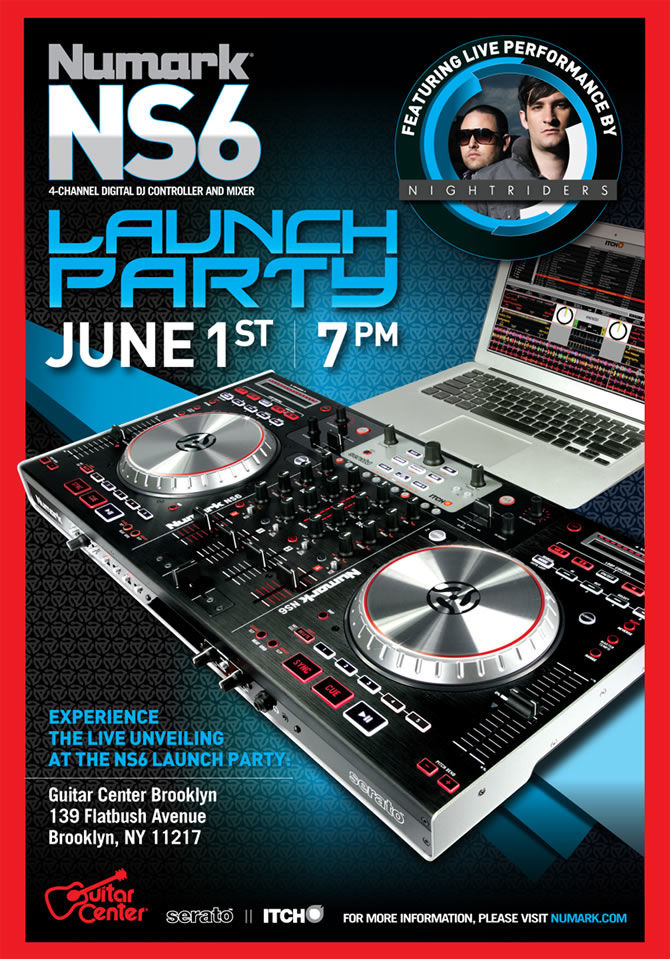 Numark is setting up for launching their new digital dj controller – NS6, on 1st June, at Guitar Center Brooklyn, NY.
Numark NS6 is the first truly pro-grade DJ controller and standalone 4-channel mixer with effects, allowing you to mix external sources with tracks on your computer.
More info you can find directly on the product page at Numark.Com
Numark NS6 Top Features
The Best Platters On the Planet
The NS6 platters are the most responsive, highest-resolution touch-activated platters ever produced in a DJ product, delivering an astounding 3,600 ticks of resolution per rotation. These are not "forced depression" platters that demand you press down every time you want to move the platter or scratch; the NS6 platters are ultra sensitive, responding to your touch, giving you extremely precise, high-definition turntable control. With high-resolution 14-bit MIDI communication to your computer, NS6 keeps your mix super tight, erasing the line between hardware and software.
4 Decks of Crowd Control
With an all-new 4-deck version of Serato, NS6 gives you an unbelievable amount of options for performing. Serato's interface lines up vertically or horizontally for optimal viewing of the waveform alignment; you'll know exactly where you are and will easily be able to see how the tracks coincide. Layer selectors next to each platter are the keys to unlocking the 4-deck power of NS6. At the push of a button, you can switch between Decks 1 & 3 on the left side and Decks 2 & 4 on the right. Remix a track on the fly, layer effects, mix and match beats, bars and phrases from four different songs – NS6 is a true DJ's dream.
Virtual Needle Drop – Improved
NS6 was designed to blur the line between you and your music, to give you ultimate control and a truly interactive experience. NS6 takes Strip Search, the virtual needle drop technology introduced with NS7, one step further by providing position-indicating LEDs that give you a visual representation of a track's timeline, right in front of you. There's nothing like using Strip Search to instantly locate a point in the track. Now, you'll hardly have to look up.
Mix It All
At the heart of NS6 is a premium-quality fully independent 4-channel mixer that can be used with or without a computer, making NS6 perhaps the most versatile DJ controller and mixer combination in the world. NS6's four channels can easily transition between controlling Serato's four decks and controlling your external sources. Control Serato one moment; mix in your turntable, CD decks, or a mic the next. At its heart, NS6 is a software controller, but it's also ready to handle everything else you've got.
It Sounds as Good as it Looks.
DJing is all about music, and music is all about sound. NS6's audio interface has been engineered to sound authentic and full, retaining the integrity of your music. NS6 is built around a genuine 24-bit mixer that sounds as good as you would expect from a professional audio interface. Pro-grade circuitry and premium inputs and outputs ensure your mix will sound punchy and strong night after night. As you would expect from a professional controller, NS6 has locking XLR outputs for a balanced signal path that will relay your mix reliably even over long distances.
Simple. Seamless. Solid. Serato.
Serato has become synonymous with intuitive, stable, powerful DJ software. Designed for DJs and built for live performance, Serato has been developed and refined to deliver a fully integrated DJ experience that is solid and reliable. You shouldn't need an instruction manual in the booth with you, so the interface of the 4-deck version of the software included with NS6 is clean and straightforward. Not only is it built to look and feel like true DJing, it was designed specifically for NS6 to ensure completely seamless performance. Free upgrades that constantly add new features and enhancements ensure that when Serato advances, you do too.
Dual FX. Limitless Possibilities.
Interacting with the music is what DJing is all about, and NS6 opens creative doors in every direction. Two banks of assignable effects with parameters you can manipulate on the fly empower you to make the same track into a different track every time. NS6 takes it even further by allowing you to layer and blend effects. Choose from Delay, Crusher, Braker, LPF, HPF, Repeater and more. Each bank has 12 effects ready to mangle, warp and shape your audio.
No Keyboard Required
NS6 continues in the tradition of NS7, NS7FX and V7 by giving you complete, tactile control and real-time visual feedback of your set. You'll spend more time performing, less time looking at the computer screen. NS6 provides instant crate control via a simple click knob and large, backlit buttons to navigate through your music library.
Twisted Loops
With NS6 you get three ways to loop. Manual Loop gives you full control to set the ins and outs wherever you want. Auto loop uses parameters you assign to create a perfect loop at the touch of a button. Both Manual and Auto looping are perfect for creating intros or outros, and either can be divided, multiplied or shifted left or right in the track. NS6's third loop function, Loop Roll, enables dynamic stuttering effects while the track continues to play. Use it to build energy when you're coming out of a breakdown or simply want to interact and have fun with a song. NS6 is a DJ's instrument allowing you to squeeze, stutter, or hammer away at your mix.
Chop Shop
Slice and dice your tracks with NS6's assignable hot-cue buttons. This NS6 feature can be the key to creating unique and electrifying mixes as you assign hot-cues that express your style. Hot-cue-assign buttons on each deck digitally mark your cues on the track and act like on-the-fly samplers, enabling you to jump to different parts of the song. Build an arsenal of cues, then mix and deploy them as you improvise, build the mix, tear it down and energize the crowd.
Search In Sync
The Skip button on NS6 is an all-new feature you'll have to hear to believe. By depressing the Skip button and turning the platter you can get to any point of your track in seconds while staying on the beat. Miss that part you wanted to loop or set a cue at? With this powerful feature, you can go back and no one will ever know. Plus, if you need to get out of a track quickly, this is your escape hatch. Your mix loses no energy and your audience hears no rushed transition. It's like a musical time warp. You're just there.
Never Miss a Beat
During a live show, anything can happen, and NS6 was built to give you the tools necessary to respond. NS6's Beat Grid function gives you the ability to manually adjust the beat grid of any song. If you have a track where the drums aren't exactly perfect, like those with live drummers, the Beat Grid function enables you to go into the track and line up the beat perfectly. With the beat lined-up you can then use the Auto Loop, Beat Sync Effects, or Serato's 4-layer deck sync on the track and everything will be seamless an tight.
Sources: Numark.Com and NumarkNS6.Com