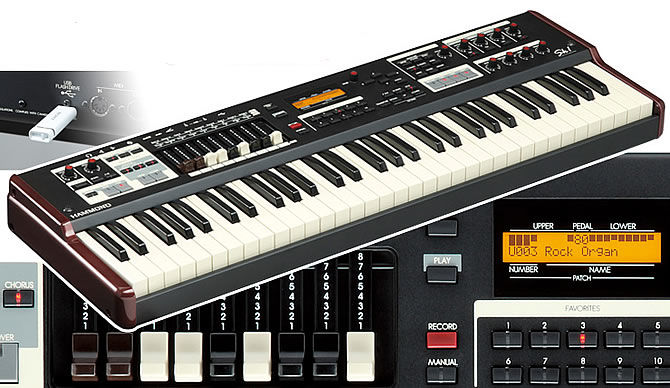 We have two new releases from Hammond, lightweight, full featured organs … model SK 1 and model SK 2.
Hammond SK1, the ultra-portable new organ, gather all the tradition and all the soul of the Vintage B-3 into a trim 15 pound pack. It comes with a wide series of other voices like Acoustic and Electric Pianos, Clav, Vintage Combo Organs, Vintage String Synthesiser, Accordions, Pipe Organs and many other.
The SK Series aren't clones of other Hammond Organs even if all the classic features that make a Hammond are included: Real Mechanical Drawbars, "Waterfall" Keyboard, Touch Response Percussion, Chorus Vibrato. In two words you can say that your eyes see portable but your ears hear and your touch says B-3.
For more info and details you can go to the official site.
Hammond SK1 and Hammon SK2 Tech Specs
Sound Generator
Organ Section
2 – VASE III as Digital Tone-wheels, Transistor Organ and Pipe Organ
61 polyphony (for manual, except Pipe Organ)
8 polyphony (for pedal, except Pipe Organ)
63 polyphony (maximum, on Pipe Organ)
Extra Voice Section
VASE III, 63 polyphony (maximum)
Keyboards
C1 to C6 61-key (SK1)
Harmonic Drawbars
Drawbars
9 Pitches, assignable for Upper, Pedal, Lower
Voicing
Manuals: 6 choices (B-Type1, B-Type2, Mellow, Vx, Farf, Pipe), valiable key-click,
Pedal: 4 choices (Normal, Muted, Synth1, Synth2), 5 choices key-click
Touch Response Percussion
Buttons
Second Harmonic, Third Harmonic, Fast Decay, Volume Soft
Adjustable
Touch, Velocity, Decay (Fast, Slow), Level (Normal, Soft)
Extra Voice
Instruments
6 Groups (A. Piano, E. Piano, Keyboard, Wind, Other, Library)
Upgradable via Library
Control
Allocate Upper/Lower, Solo, Group
Effects
Vibrato and Chorus
Digital Scanner
Buttons: 1, 2, Chorus, Upper On, Lower On
Overdrive
Digital, 4 programs
Control: On, Amount
Multi Effects
8 programs for Organ/Extra Voice individually
Control: On, Amount
Equalizer
for Organ: Bass, Mid (sweep), Treble, Tone
for Extra Voice: Bass, Mid (sweep), Treble
Internal Leslie
Advanced Digital, 2 Rotors
Buttons: Bypass, Stop, Fast
Reverb
Digital, 11 programs
Control: On, Depth
Master Equalizer
Control: Bass, Mid Gain, Mid Frequency, Treble
Keymap
Buttons
Manual Bass, Split (SK1 only), Lower to Pedal (SK2 only) Octave Up, Octave Down, Lower, Transpose
Adjustable
Coupler Highest note, Split Point
Patches
Capacity
100 User Patches, 100 Preset Patches, Manual
Favorites
10 buttons
Patch Load Options
Drawbar Registration, Drawbar Parameters, Extra Voice, Internal Zone, External Zone, Organ Effects, Exv Effects, Reverb
Controllers
Volumes
Master Volume, Music Volume, Extra Voice Volume
Switch
Power On/Off
Music Player
File Format
WAV (44.1kHz, 16bit, Stereo), MP3 (44.1kHz, 128kbps, Stereo)
Control
Song, Play/Pause
Storage
USB Flash Drive
Display
20 – Characters, 2 – Lines
8 Control Buttons and Value knob
MIDI
Templates
9 Templates(SK1), 5 Templates(SK2)
External Zones
3 Zones, assignable any keyboards
Connections
MIDI
In, Out
Audio
Line Out L, R, Headphones
Leslie
8 – pin, 1 and 3 channels available
Other
Foot Switch, Damper Pedal, Exp. Pedal, DC IN (12V)
Accessory
AC Adaptor AD3-1250
Dimensions
SK1: 35 1/4″(W) x 12″(D) x 3 7/8″(H)
Weight
SK1: 15 1/2 lb
Sources: Hammond Organ CO.