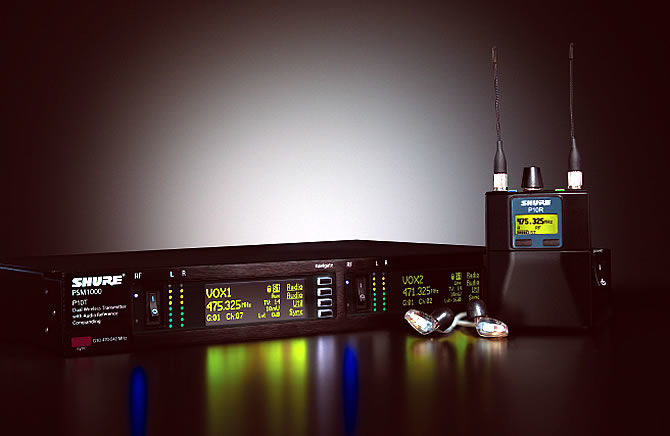 Shure Incorporated has announced that the new PSM1000 Personal Monitor System is now shipping. "The Shure PSM 1000 Personal Monitor System outperforms other in-ear monitor systems in many ways," said Matt Engstrom, Category Director for Monitoring Products at Shure.  "With best-in-class audio and RF performance, networking connectivity, and a diversity bodypack receiver, PSM 1000 delivers on the demanding requirements of sound professionals."
Watch online Shure PSM 1000 In-Ear Personal Monitor System Video Presentation on Official You Tube Account of Shure UK.
Shure PSM 1000 Personal Monitor System builds on the stellar audio and RF performance of Shure's PSM900 Personal Monitor System, while adding numerous advanced features:
Shure PSM 1000 System:
Ultra-wide 72 megahertz tuning bandwidth allows up to 9 systems to operate in one TV channel, and up to 39 systems in one frequency band
Backward-compatible with PSM 900 components
P10R Diversity Receiver:
Two detachable ¼-wave antennas for exceptional freedom from dropouts
Full bandwidth scan finds clear, compatible frequencies and provides a graphic spectrum plot viewable from the screen
Optional rechargeable Lithium-ion batteries provide up to eight hours of operation and recharge fully in just three hours
P10T Transmitter:
Full rack, dual-channel wireless transmitter housed in a touring-grade, all-metal chassis
Internal power supply that supports daisy-chaining
Networked control via Ethernet that vastly simplifies setup for high channel count
"Using two identical antennas is essential to consistently deliver the benefits that diversity operation can provide," said Engstrom.  "Users who are accustomed to the bursts of static and dropouts common in other systems will be amazed by the PSM 1000's performance."
Pricing and Availability
A PSM 1000 Wireless System with two bodypack receivers and two SE425 earphones is priced at $6,381USD.
A PSM 1000 Wireless System with two bodypack receivers but no earphones is priced at $6,069USD.
The P10R wireless bodypack receiver and P10T wireless transmitter are available as separate components priced at $1,094USD and $3,881USD, respectively.
All pricing listed is MSRP and the products are now shipping.
The PSM 1000 carries a two-year limited warranty and can be purchased at select retail partners. Visit www.shure.com/americas for a list of authorized dealers.
Source: Shure Incorporated Press Release