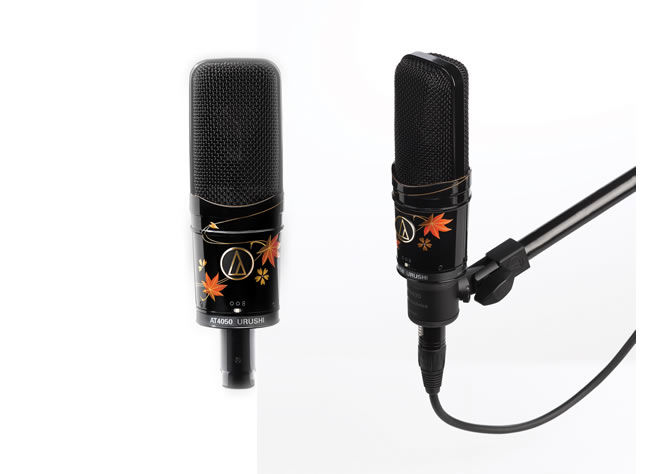 To celebrate Audio-Technica's 50th Anniversary, they has introduced a special limited edition of AT4050 Microphone with hand-painted red Japanese maple leaves in Urushi lacquer. Each microphone will be lacquered and painted by hand. It takes no more than 6 days just to prepare each one for paint. After this step the artist paints the motives using a special paintbrush. A unique serial number is etched on the surface of each AT4050 URUSHI model. The limited edition offering comes with a beautifully crafted wooden case.
Audio-Technica AT4050 URUSHI is a large-diaphragm side-address externally polarized (DC bias) condenser microphone with three switchable polar patterns: omnidirectional, cardioid, and figure-of-eight. It is designed to meet the most critical acoustic requirements of professional recording, broadcast and sound reinforcement.
The microphone requires 48V phantom power for operation. The omnidirectional polar pattern is sensitive to sound coming from all directions. Select the omni pattern to pick up several voices or instruments on the same microphone, to diminish proximity effect,  and to preserve the location's ambient sound.
The cardioid polar pattern is more sensitive to sound originating directly in front of the element, making it useful in controlling feedback, reducing pickup of unwanted sounds and providing isolation between performers. The figure-of-eight polar pattern is more sensitive to sound originating in the front and back of the microphone, rejecting sounds from the sides. It is often used in conjunction with advanced stereo miking techniques.
The output of the microphone is a 3-pin XLRM-type connector. The microphone is equipped with a switchable 10 dB pad and a switch that permits choice of flat response or low-frequency roll-off (via integral 80 Hz high-pass filter). The microphone is enclosed in a rugged housing. The included studio microphone isolation mount provides isolation and permits mounting on any microphone stand with 5/8″-27 threads. A dust cover and a wooden case are also included.
Audio-Technica AT4050 URUSHI Top Features
• Special 50th anniversary limited edition with stunning traditional urushi lacquer finish, hand-painted Japanese maple leaves, etched-on serial number, and carefully crafted wooden case
• Specially engineered to meet the most critical acoustic requirements of professional recording, broadcast and sound reinforcement
• Three switchable polar patterns: omnidirectional, cardioid, figure-of-eight
• Transparent uppers/mids balanced by rich low-end qualities combine with advanced acoustic engineering for extensive performance capabilities and highest quality
• Dual-diaphragm capsule design maintains precise polar pattern definition across the full frequency range of the microphone
• Transformerless circuitry virtually eliminates low-frequency distortion and provides superior correlation of high-speed transients
• The 2-micron-thick, vapor-deposited gold diaphragms undergo a five-step aging process so that the optimum characteristics achieved remain constant over years of use
• Open acoustical environment of the symmetrical housing assembly minimizes unwanted internal reflections
• Integral 80 Hz high-pass filter switch and 10 dB pad switch
• State-of-the-art design and manufacturing techniques ensure compliance with A-T's stringent consistency and reliability standards
Source: Audio Technica