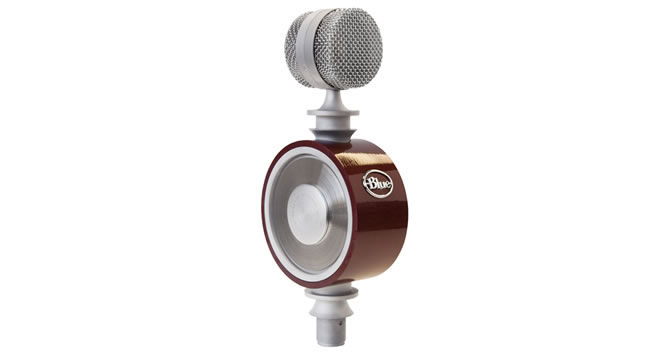 After a limited release, Blue Microphones announces that Reactor, their latest large diaphragm, multi-pattern studio mic is widely available at authorized Blue Microphones dealers! Blue Microphones Reactor unites Blue's proprietary pre-amp circuit and innovative pattern selection method (cardioid, omni or bi-directional) with a swiveling capsule head for precise positioning, making it inherently well-suited for multiple mic setups.
Multiple Patterns and Sonic Signature: Drawing from the design of Blue's renowned B6 capsule, Reactor's capsule technology delivers a full sonic signature with a detailed top end, texture mids and a full bottom end.  With the versatility of choosing between the cardioid, bi-directional and omnidirectional patterns, Reactor's sound can be tuned to specific uses such as full and present vocals, warm guitar acoustics, even capturing the room frequencies of drums.
Features: Featuring an innovative swiveling design, Reactor's capsule head rotates fluidly across a 90 degree range, with resistance to hold the head in a precise position. Facilitating ease-of-use in multiple mic setups such as Mid/Side or X-Y recording, Reactor's swivel head allows for accuracy and fine-tuning of setup geometry and microphone tone.
Blue Microphones Reactor comes with a high-quality metal carrying case for protection and storage, along with a custom-designed shockmount and a custom magnetic pop filter complete the recording experience.
Watch online Intro to Blue Microphones Reactor, Multi-Pattern Mic Video Presentation on the Official You Tube Account of Blue Microphones.
Price: Reactor costs $499.
Source: Blue Microphones Press Newsletter