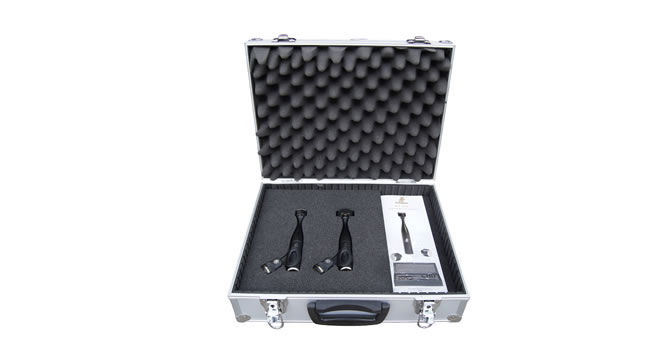 JZ Microphones announces a special Michael Wagener signature microphone kit, consisting of two microphones; a JZMic BT-201 small diaphragm cardioid condenser and a limited edition JZMic BT-301 medium diaphragm condenser.
Legendary music producer, mixer and engineer Michael Wagener (who worked for Metallica, Queen, Alice Cooper, Ozzy Osbourne, Mötley Crüe, W.A.S.P, Janet Jackson, Megadeth, Skid Row) recently discovered the brilliant sound produced by the combination of two unique JZ microphones. While tracking acoustic guitars on a recent project, Michael used the JZ BT 201 and JZ BT 301 microphones with magical results. "I tried the BT-201 / 301 combination on acoustic guitar and it was the best sound I've heard from any new mic." The BT-201 / 301 combination can be heard on all recent Michael Wagener productions, including the recent Lordi project where the kit was used for acoustic guitars as well as drum overheads. "The BT 301 is my go-to microphone for ride cymbal and the 201 sees a lot of use on hi-hat" said Michael Wagener.
Watch online JZ BT 201 Series Video Presentation on the official You Tube Account of JZ Microphones.
The BT or Bat series was the second range to be released by JZ Microphones, following the hugely successful Black Hole series microphones. The BT range is unique in many respects, including interchangeable, magnetically attached capsules, offering cardioid, open cardioid, padded open cardioid (-20dB) and omni capsules. The distinctively shaped BT-301 is a limited edition medium sized cardioid condenser, which boasts an extremely low self noise spec of a mere 5.5 dBA. Both microphones excel on instruments that benefit from a high frequency presence boost, making them ideal for string and percussion sections, as well as acoustic guitar.
The kit will be available in the market soon.
Watch online BT301 Limited Edition Video Presentation on the official You Tube Account of JZ Microphones.
Source: JZ Microphones