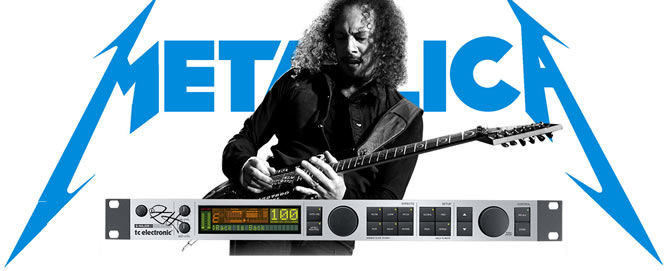 The guys from TC Electronic have a G-Major 2 signed by Kirk Hammett to give and if everybody can win this by signing up to their newsletter on the "competition page" on the official site: www.tcelectronic.com/metallica/.
Both Kirk and James have made G-Major 2 a cornerstone of their live rigs and all the iconic clean tones, chunky rhythms and face melting leads you know and love. The competition ends March 22nd.
Made By Guitarists For Guitarists
G-Major 2 is pure guitar magic in a single-space rack unit at a price that lets you ease into greatness. Studio quality sounds combined with stompbox simplicity geared for even your most heavy-duty performances. No modeling wannabe, but pure undiluted TC Electronic effects in a league of their own.
# Houses six of the best effect blocks TC has to offer
# State of the art processing and high quality algorhythms
# Advanced MIDI capabilities, relay switching and flexible set-up
Source: TC Electronic