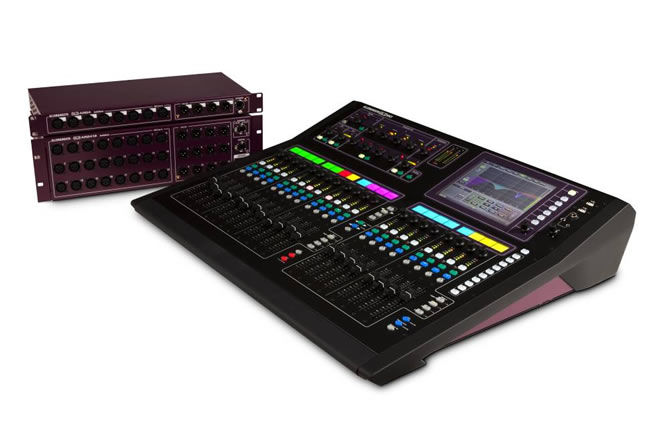 Allen & Heath has announced GLD, their new cost effective and scalable live digital mixing system. Allen & Heath GLD Mixing Desk is conceptually based on digital iLive Series.
A standard GLD 32 input system offers 28 XLR mic inputs with plug n' play I/O expanders allowing easy expansion up to 48 inputs (44 XLR mic inputs).
At the heart of the system is the Allen & Heath GLD-80 mixer, providing 48 input processing channels, 8 stereo FX returns fed by iLive's acclaimed FX emulations, 30 configurable buses, 20 mix processing channels, and DSP power to provide full processing without compromise.
Allen & Heath GLD-80 has an analogue-style channel processing control section complemented by a graphical 8.4 inch touch screen. A fully-customisable drag 'n drop layout allows quick and easy assignment of inputs and mixes to fader strips. There are 20 fader strips in 4 layers, each with motorised fader, a channel LCD display which can be named and colour-coded, plus a rotary control for direct access to gain, pan and aux/FX sends. The mixer's local I/O comprises 4 XLR mic/line inputs, 4 XLR line outs, 4 RCA inputs, 2 RCA outputs, and digital outputs in SPDIF and AES3 formats.
Allen & Heath GLD-80 connects to a range of plug 'n play I/O racks to 'build' 28, 36 or 44 mic input systems. A primary AR2412 rack (24 XLR inputs, 12 XLR outs) and up to two AR84 expander racks (8 XLR inputs, 4 XLR outs each) can be connected over 120m CAT5 runs using A&H's dSNAKE protocol. dSNAKE provides control to the remote preamp, and all mic preamps are scene recallable. AR2412 also includes a connection for personal monitoring systems.
GLD has the ability to record and playback a stereo signal on a USB memory stick. Standard iLive audio I/O option cards for Dante, MADI, EtherSound and Allen & Heath's ACE protocols can be fitted, allowing multi-channel record/playback, FOH/monitor splits, and connection to A&H iLive systems, which can easily be configured using GLD's extensive soft-patching.
"Designing a system which is suitable for both the professional engineer and occasional user has been a priority. With GLD, our aim was to take much of the complexity out of digital mixing, opening up the tremendous benefits of digital technology to a wider group of customers, such as the rental companies, houses of worship and live venues where our GL series analogue mixers have been working so successfully for years," comments A&H MD, Glenn Rogers. "GLD offers high quality processing and stunning sonic performance. Key to the system is GLD's remote plug 'n play I/O audio racks for flexible, easy set-up system building."
Allen & Heath GLD Top Features
• Compact digital mixer with scalable, remote I/O
• Systems from 4 to 44 mics
• Easy to use, quick to access, analogue style interface
• dSNAKE Cat5 digital snake—up to 120m cable length
• 8.4 inch colour touchscreen for graphical view and setup
• 20 faders, 4 layers, 80 channel strips in a freely customizable layout
• 48 input channels into 30 assignable buses (Aux, Group, Matrix, Main, FX Send) into 20 mix outputs
• 8 stereo RackFX engines with dedicated 'short' returns with 4-band PEQ
• Full processing on all inputs including trim, polarity, HPF, insert, gate, 4-band PEQ, compressor and delay
• Full processing on all outputs including insert, PEQ, GEQ, compressor and delay
• LR, None (monitors), LR+M (sum), LR+M (bus), LCR main mix modes
• 16 DCAs / mute groups
• Built-in Talkback, RTA and Signal Generator
• I/O module options for FOH/Monitor split, multitrack recording, link to iLive and more
• MIDI In/Out and Ethernet Network port
• AviomTM compliant Monitor port on main AudioRack
• High end 1dB step recallable mic/line preamps
• User definable channel names and colours
• Engineer's mono Wedge and stereo IEM strips
• Input, output and insert soft patchbays
• Quick copy, paste and reset of mixes and parameters
• Libraries, Scenes and Show memories with USB transfer
• Get started quickly with Template Shows
GLD will be launching at NAMM 2012.
Source: Allen & Heath