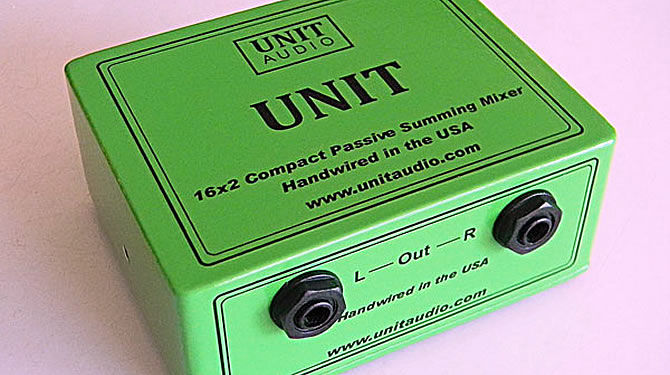 Unit Audio recently released the New Unit 16 x 2 Analog Summing Mixer. The New Unit features 16 channels of actual physical Analog Summing for less than $300.00. That's less than the cost of  plug-ins designed to emulate analog summing. Like all Unit Audio mixers, the "Unit " it is completely hand assembled, tested, and wired point to point in Nashville, TN using only the highest quality components like Neutrik connectors and Xicon resistors.
The Unit Audio mixers add back some the sparkle and punch of analog recording that is so often missing in a purely "in the box" mix. Price on the Unit is  $299.00 plus shipping.  The other mixers in the line start at $149.00 plus shipping, Easy setup makes these mixers the perfect companion to a Digital Audio Workstation. It is available with either TRS or XLR output.
"Is analog summing going to make your recordings sound like a Nashville studio with a billion dollars worth of equipment?" says Unit Audio's Design Engineer Terry, "Probably not, but you will notice a difference in your mixes using a Unit Audio summing mixer."
On the subject of summing, Terry has this to say "Loosely quoting Shakespeare one might say 'To analog sum or not to analog sum?'  This has been a point of controversy with digital recording for quite some time. With modern DAW software, mixing within the computer has resulted in some great sounding recordings, but I have long been intrigued by the concept of analog summing. I was not prepared to pay $800.00 or more to test that theory, so I engineered and built my own. Then to test the theory, I set out to see if there was any difference in the mixed sound.  Much to my amazement and pleasure, I did notice a subtle but very pleasing difference in the stereo separation and placement of the instruments compared to my In the Box mixes. "
Curious about what an analog summing mixer can do for you? Go to the "Sound Samples" page on our website where can listen to a strictly in the box mix and a mix run through a Unit Audio analog summing mixer.
Unit Audio New Unit 16×2 Analog Summing Mixer Features and Specifications
Inputs: 16 Balanced Line Inputs on D-Sub Connectors Tascam standard pin out
Outputs: 2 balanced Microphone level outputs, neutrik TRS Connectors
Placement Switches: 2DPDT Pan Switches for centering channels one and two
Input Impedance: 20k ohms
Output Impedance: 220 ohms
Make Up Gain: 30 – 40 db
Resistors: Hand Selected and metered Xicon 1/4 watt 1% tolerance
Bus wiring: 14 gauge solid copper wire
Case: Die Cast Aluminium
Case Size: 7.38 x 4.70 x 1.30 inches
Power Requirements: None (Passive)
The price for New Unit 16×2 Analog Summing Mixer is $299.00. You can buy it online or find more info on the official site.
Source: Unit Audio Press Release