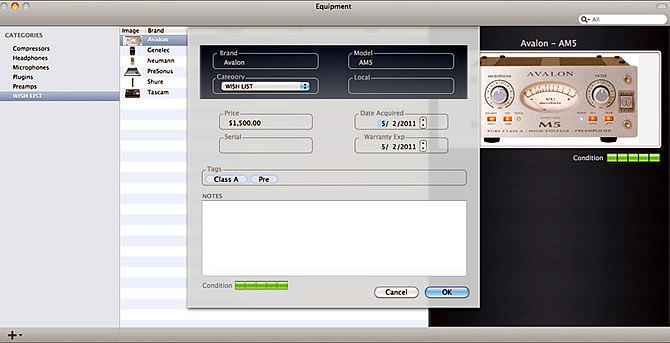 We found these days a great application for recording studios even if we are talking about a home recording or a major recording studio. Audio Studio Manager is the name of this "gadget" software . You can put it on work for managing your recording and music production projects, your equipment and your working time.
Audio Studio Manager Top Features
Equipment Inventory @ Audio Studio Manager
. categorize equipment
. create your wish list
. control the warranty, prices, dates
. tags and notes
. equipment by location
. equipment condition
Project Management @ Audio Studio Manager
. clients and projects (Activity Status)
. costs and payments by project
. manages the project phases
. Independent control of services
. control the services charged hourly or flat rate
. Independent control of each session (notes, tag, engineer, assistant …)
. time tracker by phase
Audio Studio Manager is already available as version 1.1.1.  A minus is that there is no version for Windows and this is not a priority for the development team. A big plus is that there are "on the road" the iPhone and iPad Versions.
More details you can find on the official site and also on the product page on Mac App Store, where you can buy Audio Studio Manager for $14.99.
Sources: Audio Studio Manager