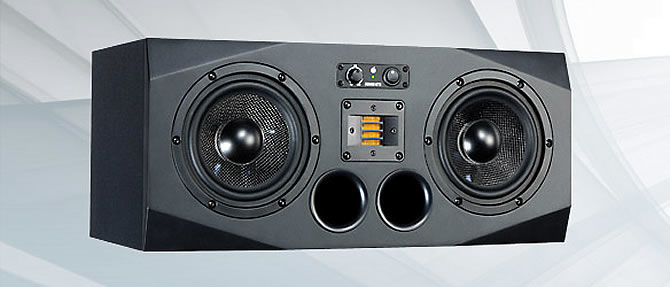 Adam Audio is releasing A77X Monitor in U.S. at 131st AES Convention. The worldwide launching and presentation event for this new monitor happened at Prolight + Sound 2011 and now, Adam Audio presents and delivers A77X to the U.S. distributors. The A77X features the X-ART tweeter, new woofers and amplifiers, and reworked and redesigned speaker cabinets. Adam's award-winning AX-Series already includes four high performance systems ranging from the ultra-compact and fully professional A3X to the high performance A5X, A7X and A8X Systems. All models feature the new X-ART tweeter in addition to woofers and amplifiers that have been completely re-engineered with larger voice-coils and more powerful amplifiers for greater linear excursion and more output. The 'X' stands for 'eXtended frequency response' and the Accelerating Ribbon Technology has been drastically improved in terms of frequency response that now extends all the way up to 50kHz. The X-ART tweeter also has higher efficiency and produces higher maximum sound pressure levels.
Adam Audio A77X is equipped with the same advanced technologies as its popular counterpart the A7X, but produces much higher, compression-free maximum sound pressure levels and dynamics. Due to its power and radiation characteristics, it is ideally suited for near and midfield monitoring.
Adam Audio A77X's two 7" woofers feature 1.5" large voice coils and powerful 100W PWM amplifiers. Both woofers can deliver very high maximum sound pressure levels and deep lower register reproduction. The woofers cover different frequency bands – one handles the sub-bass and bass frequencies to approximately 400Hz, while the other reproduces most of the midrange, eliminating interference between the two drivers.
Adam Audio A77X Monitor Tech Specs
Subwoofer
Number: 1 / 1
Basket Ø: 7″ (175 mm) / 7″ (175 mm)
Voice coil Ø: 1.5″ (38 mm) / 1.5″ (38 mm)
Cone material: Carbon / rohacell / glass / Carbon / rohacell / glass
Tweeter
Number: 1
Type: X-ART
Diaphragm area: 4 inch² (2420 mm²)
Equiv. Diaphragm Ø: 2″ (56 mm)
Velocity transform ratio: 4:1
Diaphragm weight: 0.17 g
Built-in Amplifiers
Subwoofer: 1
Type: PWM
Amp. power RMS / music: 100 W / 150 W
Subwoofer: 1
Type: PWM
Amp. power RMS / music: 100 W / 150 W
Tweeter: 1
Type: A/B
Amp. power RMS / music: 50 W / 75 W
Control Panel
Input Sensitivity: -∞ to +14 dB
High shelve > 5 kHz: ±6 dB
Low shelve < 300 Hz: ±6 dB
Tweeter gain: ±4 dB
Input Connectors
Analog: XLR / RCA
Location: Rear
General Data
Panel: Front
Frequency response: 38 Hz – 50 kHz
THD 90dB/1m > 100 Hz: ≤0.5 %
Long term output: ≥114 dB
Max. peak: ≥122 dB
Crossover frequencies: 400 / 3000 Hz
Input impedance: 30 KOhm
Weight: 28.2 lb (12,8 kg)
Magnetically shielded: Optional
Height x Width x Depth: 9.5″ (235 mm) x 21″ (530 mm) x 11″ (280 mm)
Warranty: 5 Years
ADAM Audio A77X Monitor Technical Data Downloads
The announced price for A77X is $1,399 per speaker.
For more information about ADAM Audio USA, you can find them at Booth #367 at the Javits Convention Center, call 516.681.0690, or click to www.adam-audio.com
Source: Adam-Audio