French high-end sound reinforcement manufacturer Amadeus has been chosen to design a custom set of reference monitoring speakers for the National Audiovisual Institute's (INA) 'Studio 116' in Paris. Dedicated to the Groupe de Recherches Musicales (INA GRM), Studio 116 is one of the largest of the sixty-one recording studios included in the Maison de Radio France, which is located beside the River Seine in the 16th arrondissement of Paris. Founded in 1958 by French composer, writer, broadcaster, engineer, musicologist and acoustician Pierre SCHAEFFER, the Groupe de Recherches Musicales has focused on supporting research into electro-acoustic music and recorded sound, sponsoring major concerts and working with preeminent composers such as Pierre HENRY, Luc FERRARI, and Iannis XENAKIS, among many others. When INA wanted to acquire a first set of reference monitors for its GRM, they requested design ideas from almost every leading speaker manufacturers in the world, organizing a 6-month listening session at its Studio 116 in Paris. Members of the INA group slowly narrowed the selection down to 5 manufacturers, then to 2, and finally chose Amadeus to build them a custom pair of speakers. The new Amadeus reference speakers were installed in November 2013 in Studio 116 and are already being used for INA projects.
Philippe DAO, Musical Production Manager, Composer, Sound Engineer at INA GRM said, "Since Pierre SCHAEFFER created the Groupe de Recherches Musicales in 1958 – which became a part of the National Audiovisual Institute (INA) in 1975 – speakers play a primordial role in our musical research and creative activities. Since 1974, our 'loudspeaker orchestra' (a.k.a. 'acousmonium') 'plays' music at the GRM concerts. Each composer chooses the loudspeakers, according to their sound color and their personality. On the other side, our monitoring speakers are references, the equivalent of a tuning fork. They must therefore be of an immaculate fidelity during the production, recording, mixing or mastering stages of our projects."
Describing the genesis of this project, Philippe DAO continues: "We have been looking for a genuine reference monitoring system since 2008. We finally decided to launch a call for applications in 2013. Each GRM member, composer, musician or sound engineer were able to listen to, and compare, a very large choice of products, either dedicated to studio monitoring or to mastering-oriented HI-FI, made by Danish, Finnish, Japanese, British and French manufacturers. A first draft of a soffit-mounted system, custom-designed by Amadeus, quickly caught our attention: every nuance, dynamic, even the tiniest details of a piece were reproduced without any coloration, embellishment or bias. As the initial form factor did not match our constraints, we asked Amadeus to design a column-shaped version, keeping the neutrality, the timbral precision, the dynamics and the liveliness, which had seduced us in the first place."
Co-founder of Amadeus, Bernard BYK added, "Our first collaboration with the GRM dates back to 2011, when we designed a multi-diffusion loudspeaker ring for their concerts, made with coaxial Amadeus PMX 5 speakers and custom bass speakers. We feel very proud and honored about this new collaboration. Such projects continue the works we carry out with research institutes such as the IRCAM, The Royal Conservatory of The Hague or the French National Centre for Scientific Research (CNRS) for example, and allow us to push the sound limits even further, by always developing more innovative systems."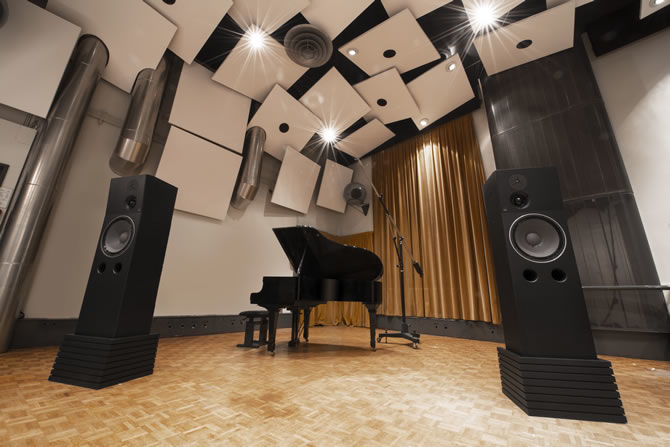 Michel DELUC, Director of Research and Technical Development at Amadeus, details the physical properties of the new Amadeus speaker system, "The monitor designed and manufactured for the Groupe de Recherches Musicales, naturally named 'INA 155', was derived from the 'Model 155', a soffit-mounted monitor designed by Amadeus. This system was modified and optimized to be used in a freestanding mode, combining the 'Mastering Monitor' philosophy with a 'Mains Monitor' sturdiness. This 3-way system hosts a Dynaudio Esotar 1-inch dome tweeter for high frequencies, and an ATC 3-inch driver for the mid frequencies. Low end is reproduced by a direct-radiating 15-inch woofer, designed by TAD, mounted in a bass reflex box. Its cone-shaped diaphragm is able to withstand very high excursion levels, without any deformation. Each one of these transducers is an undisputed reference component in its class. All three have been carefully selected, evaluated, listened to and combined. The very high volume-box is manufactured with multi-layer panels, combining, among other materials, multi-wood walls, high-density modified bitumen 'elastomers' (polymers) and mineral fillers. This gives an optimal rigidity/damping ratio, allowing an extended frequency range of 25 Hz to 40 kHz. Several internal resonators and stiffening pieces work together in a complementary way to dissipate the vibrating energy, according to a perfectly controlled harmonic gradation. The baffle shape has been optimized to reduce diffraction effects, while minimizing waves in the frequency range to be reproduced."
Noting the free-standing enclosure and internal electronics, Michel DELUC reveals, "Its totem-shape, its height and its precise 'angulation' create a large and comfortable sweet-spot for a sitting or standing listener, keeping a perfect alignment for the impulse response. Each system is tri-amplified, using a proprietary oversized amp section for a total power of 3 x 1000 Watts with an 8-ohm impedance. Every channel is equipped with a very powerful DSP engine, powering very low-latency IIR and FIR filters ensuring an excellent amplitude/frequency response and outstanding phase response. The technology combines solid-state and passive components, selected after intensive listening sessions, 6-layer PCBs, etc. to get the lowest distortion and noise levels."
Amadeus is already working on an upgraded version of the 'INA 155' monitors. Bernard BYK reveals, "Moved by a desire to push to the ultimate level both the precision and transparency of this monitor, we thought about designing, in collaboration with the National Audiovisual Institute, an extension hosting a wide-band ribbon transducer with a double air gap. This would allow the sound to radiate the high-frequency sounds within an acoustic line, with a wide horizontal dispersion angle (almost 180°) and a very narrow vertical dispersion angle (less than 10°). Designed to be a very precise 'sweet spot' source only, this complementary transducer would make it easier to suppress the dominant vertical sound reflections, increase the harmonics definition, and would allow richness and extreme precision for the highest audio frequencies."
Contact Amadeus for further information about its live sound reinforcement and custom speaker systems at info@amadeusaudio.fr or visit their website at: http://www.amadeusaudio.fr
Source: Atelier 33 Press Release / Paul J de Benedictis.