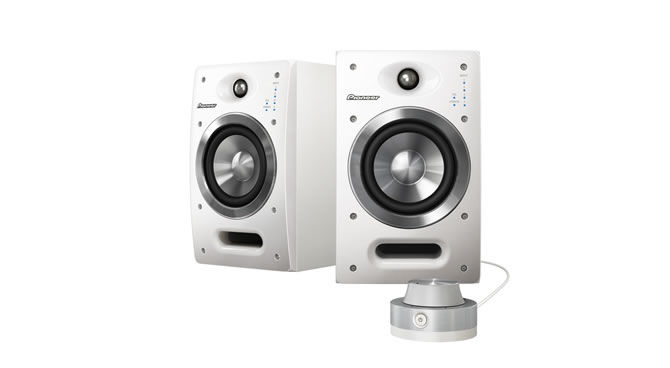 Pioneer gives a facelift to their S-DJ05-W Active Monitors for DJs / Producers which will soon be available in a glossy white and cool silver finish.
Pioneer S-DJ05-W comes with accurate, neutral sound reproduction, while their innovative features make them adaptable for all studio roles, whether DJing, producing or just listening to music. More than this, S-DJ05-W are the first monitors with function for settings from one place using the included desktop controller for adjusting volume and switching inputs, mute and EQ, described by internationally renowned DJ John 00 Fleming as a "Godsend". The built-in linear EQ means that frequency characteristics can be easily fine-tuned for different activities, and a unique input switching function gives the flexibility to change between sources without the need to re-wire.
The innovative waveguide shaped tweeter and independently driven woofer deliver a wide, deep sweet spot – so you can rely on perfect sound clarity whether you are standing to DJ or sitting to produce music.
Super compact and incredibly stylish, the S-DJ05-Ws offer the ultimate in flexibility, quality, clarity and style. Now available in white, they are the perfect addition for any home studio, whatever your tastes. Due for release mid-November, the suggested retail price is 599 euros / £499 inclusive of VAT.
Pioneer S-DJ05-W Active Monitors Top Features
Perfect sound reproduction
Perfect sound reproduction The speakers are equipped with a 10cm high-force magnet and low-resonance chimney-style heat sink for the accurate reproduction of the original source and robust low frequency sound.
Built-in linear EQ takes away the hassle of a sub-mixer
The speakers' built-in linear equaliser adjusts the frequency characteristics in the low and high bands from -6 dB to +6dB. Whether you are DJing, creating, or listening to music, the S-DJ-Ws let you fine-tune the sound to suit your needs.
Deep, wide sweet spot
The waveguide shape of the tweeter give a wider than normal sweet spot to cover the width of your studio set-up; and the independently driven woofer increases the vertical range to ensure no loss of clarity whether standing or sitting.
Effortless switch between four inputs
Pioneer S-DJ-Ws are the only speakers1 to enable switching between four audio terminals: XLR, TRS ¼ inch PHONE and RCA x 2. So you can switch between four sources without needing to fiddle with wires.
One external controller for multiple settings
DJ/producers can control all of their favourite features through one external controller: adjust the volume, mute the speakers, switch audio inputs and turn the EQ on/off without ever having to move.
Total mute function
Total mute allows DJs/producers to mute the sound without adjusting the volume, to preserve your frame of reference.
Other Features: Blue LED display on front of speaker indicates input source, EQ and power on or off. / Screw holes in the speaker base are fitted for installation purposes. / Environmentally friendly auto-standby function switches the units to standby mode when no input or usage is detected for 60 minutes.
Watch online Pioneer New Speaker S-DJ05-W Introduction on the Official You Tube Account of Pioneer.
Source:Pioneer