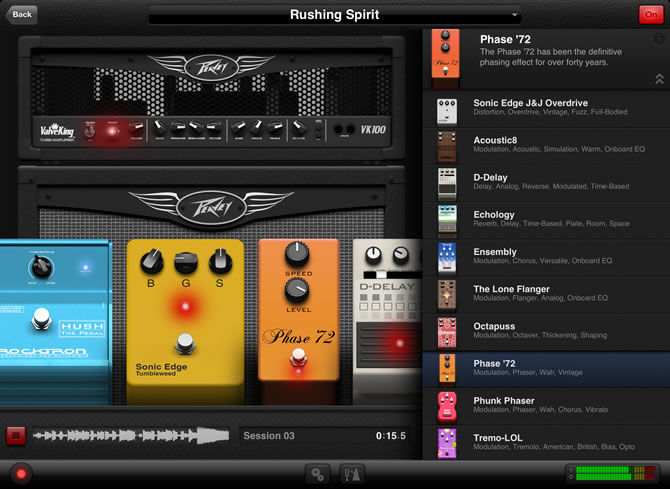 Agile Partners, developer of guitar apps for iPhone and iPad, has announced the immediat availability of AmpKit 1.4, the update to this powerful app which transforms an iPad, iPhone, or iPod touch into a powerful guitar amp and effects studio.
Agile AmpKit 1.4 is coming with two new effects pedals and two new amplifiers, including a highly accurate, officially licensed model of the Ashdown ABM 900 EVO III bass amp and matching 8×10 cabinet. "We're delighted to have Ashdown Engineering join us as an AmpKit Official Gear Partner," said Agile's Jack Ivers. "Ashdown bass amps are truly iconic, and we're very excited about how great the Ashdown ABM 900 looks and sounds inside AmpKit."
Other additions to the AmpKit Gear Store in release 1.4 include the London Century guitar amp, Phase '72 phaser pedal, and Acoustic8 acoustic guitar simulator. "We're committed to continuing to expanding the gear selection in AmpKit, which is the broadest available in any iOS app, with 38 individually modeled amp channels and a total of 95 components," said Ivers. "The new gear is, as always, based on actual circuit diagrams of highly-sought-after, real-world products to deliver a level of authenticity that is often missing in other apps." Find out more about AmpKit 1.4 on the official site.
Agile also announced the "Setup Smackdown" contest, where AmpKit users can submit their setups in three categories and have a chance to win real, physical guitar and bass gear. The categories include Best Clean / Acoustic Setup (prize: Sonic Edge Tumbleweed compressor and clean boost pedal); Best High Gain Setup (prize: Peavey AT-200 autotuning guitar); and Best Bass Setup (prize: Ashdown® MiBass 220 compact bass amp head). Find out more about the Setup Smackdown contest here.
Source: Agile Partners Press Release / Mad Sun