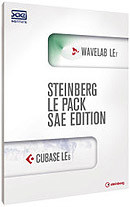 Steinberg announces that Cubase LE 6 and Wavelab LE 7 will become a welcome profile package for more than 1600 new students of SAE (School of Audio Engineering) in 26 school facilities across Europe. The offer from Steinberg is named Steinberg LE Pack SAE Edition and gathers, as it says, the light editions of Cubase 6 Music Production Software and Wavelab 7 Audio Editing Software.
"It is eminently important to us that our students learn the established methods and tools of trade. Steinberg's software most certainly falls into that category. We are therefore pleased that our audio engineer students now receive the Steinberg LE Pack SAE Edition here in Europe. Especially Cubase, with its many flexible tools, is suitable for the different working methods and helps our students make good use of their creativity in the production process, right from the start," commented Rüdi Grieme, director of operations for SAE Europe.
"Steinberg greatly appreciates this cooperation with an important – if not the most important – institution educating in new creative technologies," remarked Frank Simmerlein, director of marketing at Steinberg.
Steinberg Cubase LE 6 Top Features
# Music-production software based on the 32-bit floating-point Steinberg audio engine
# Supports up to 24 MIDI tracks, eight instrument tracks, 16 audio tracks, and 8 physical inputs simultaneously in 24-bit and 96 kHz audio quality.
# Includes the HALion Sonic SE workstation instrument with full GM compatibility and over 180 instrument presets
# Offers an array of audio and MIDI recording, editing, and mixing tools plus 16 effect processors
# Score editing, real-time pitch-shifting and time-stretching capabilities
# MediaBay content management tool
# Project Assistant with dozens of templates for quick and easy setup
Steinberg WaveLab LE 7 Top Features
# Two-track audio editing and mastering tool with up to 32-bit, 96 kHz resolution
# Provides a range of audio plugins based on the latest version of Virtual Studio Technology (VST)
# Flexible window architecture allows you to reorganize the windows for efficient usability
# Extensive Podcast and publishing options
# Includes audio CD grabbing tool for extracting audio tracks from music CDs to many popular formats
Steinberg LE Pack SAE Edition is available in the SAE Profile Packs for first-semester students of the SAE. An upgrade from the Steinberg LE Pack SAE Edition to Cubase Elements 6 and WaveLab Elements 7 is available in Europe through the SAE student store for 49 EUR (approximately $68). On October 13 and 14, 2011, Steinberg will be exhibiting its latest products at the seventh SAE Alumni Convention at the SAE Berlin.
For more information on Steinberg products, visit official site of Steinberg.