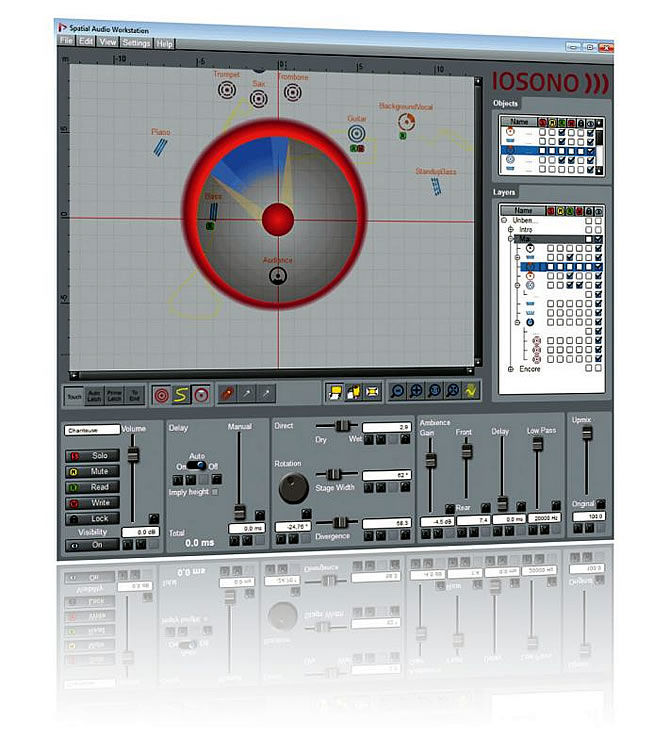 Right in time for the release of Steinberg Nuendo 5.5, IOSONO is offering a special discount on its production software SAW 2 Upmix! Until October 31st, 2011 all customers can get the full version of the Spatial Audio Workstation 2 Upmix! at the reduced educational pricing of EUR 369 and save EUR 200 on the standard pricing.
"The Spatial Audio Workstation 2 Upmix! is the ideal tool for fast and easy creation of immersive surround sound experiences," says Katja Lehmann, Junior Marketing Manager at IOSONO. "We've received very positive feedback from audio professionals regarding our spatial sound solutions. With this offer we want to give sound designers and mixers the chance to enjoy the advantages of object based surround mixing without the usual investment you would expect from such an advanced solution."
With IOSONO's SAW 2 Upmix! plug-in for Nuendo 5.5, spatial audio mixing has never been easier. Top features include positioning and movement of audio being easier than ever, presentation of the acoustic scene in its entirety and the creation of any surround format from stereo content
For more details, visit product page on IOSONO's Site and get the SAW 2 Upmix! at the reduced special price of EUR 369. You may also want to check out the Spatial Audio Workstation 2 Upmix! with a free 30-day trial version. SAW 2 Upmix! supports Windows XP (32/64 bit) and Windows 7 (32/64 bit) along with Nuendo 5 (32 bit, Nuendo dongle required).
About IOSONO
IOSONO is an innovative provider of 3D audio solutions for cinemas, themed entertainment locations and mixing stages as well as for live surround-sound events of any kind. Based in Erfurt, Germany, since its foundation in 2004, IOSONO has quickly become the technology leader in the area of 3D Audio, following both a technically advanced and user friendly approach when designing stunning software and hardware products. The product range includes audio processors for surround playback and sound creation, as well as authoring software, which can be combined to an all-in-one surround sound solution.
Source: IOSONO Press Release