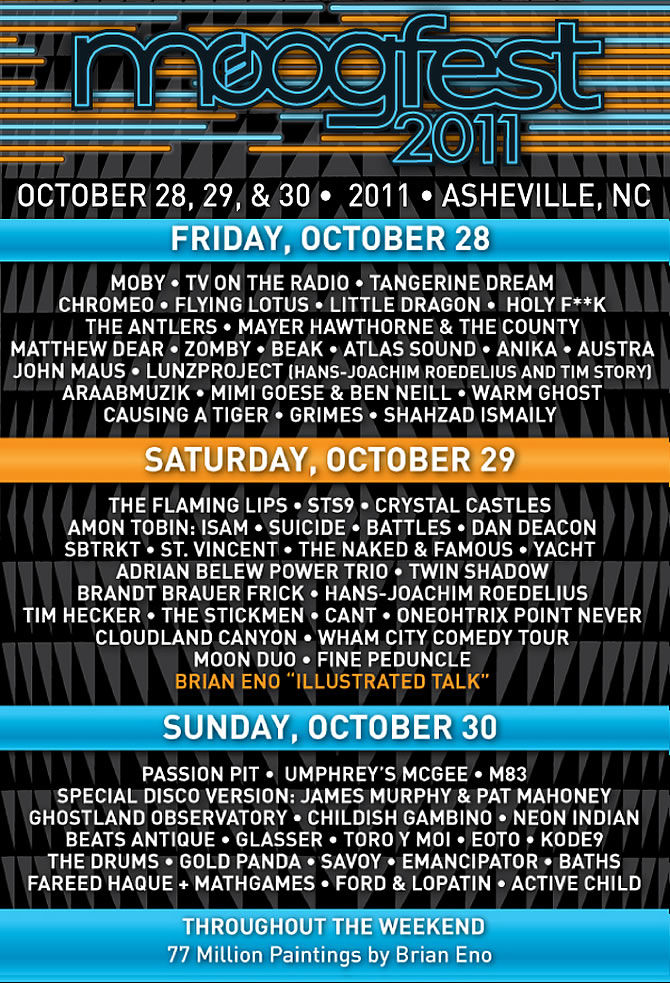 Moogfest is a weekend celebration of the creative vision of sonic pioneer Bob Moog, inventor of the Moog Synthesizer and its offspring. The Flaming Lips, Moby, Passion Pit, STS9, Tangerine Dream, TV on the Radio, Special Disco Version: James Murphy and Pat Mahoney, Umphrey's Mcgee, Amon Tobin: ISAM, Chromeo, Crystal Castles, Flying Lotus, Suicide, Ghostland Observatory, Childish Gambino, M83, Neon Indian, and St. Vincent are just some of the mind-blowing artists gathering for this epic weekend, October 28th-30th in Asheville, NC.
Plus, in what can only be described a Moogfest coup, musician / producer / artist / visionary / thinker and all-round renaissance man Brian Eno will be coming to Moogfest this year.  His amazing video installation, 77 MIllion Paintings, will be exhibited for the first time in the USA outside of the West Coast and Eno will also present a mind expanding "Illustrated Talk."
Also, Moogfest 2011 is expanding in a big way.  In addition to concerts at the Asheville Civic Center Arena, the Thomas Wolfe Auditorium, and the Orange Peel, new venues for the weekend will include the newly renovated Asheville Music Hall (formerly Stella Blue), the beautiful and intimate Diana Wortham Theatre and … Moogfest is going outdoors this year. More information you can find in the near future via moogfest.com.
Also, there are workshops, interactive experiences, discussion panels, costume competitions, art shows (hint: Wayne Coyne of the Flaming Lips is participating!) … and this year there will be a bunch of surprise daytime performances and events all over town on Saturday and Sunday.  Follow Moogfest on Twitter and Facebook for in-the-moment updates on the latest developments.
Visit www.moogfest.com for complete lineup, tickets, & more.