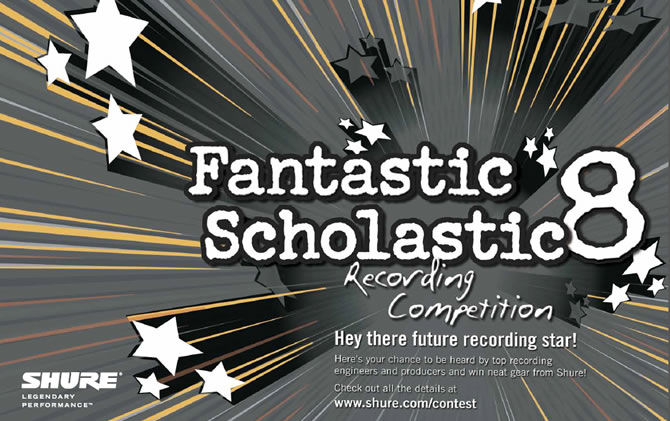 Shure announces its eighth annual Fantastic Scholastic Recording Competition. The entry registration is open  until October 21st for university and college students. Shure's Fantastic Scholastic Recording Competition gives to contestants the possibility to record a musical composition as the professional musicians and engineers do, using the same high quality Shure gear or equipment. Shure announces that a random drawing on October 24th will narrow down the entry registrants to 10 competing schools. Each contestant that will step up in the "final" will receive a microphone kit from Shure that will be used to complete the recording project entry. The microphones used in all of this will be KSM313, two KSM32, two KSM44A, one KSM42, two KSM141, four SM57, two SM27, one Beta 52A, one Beta 57A, one Beta 91A, three Beta 98AMP, two Beta 181/S each with an additional Omni capsule, one SM7B, one VP88, and one A27M.
Competing teams will have to record and mix an original musical part performance using only the following Shure microphones provided by and no other microphones. The musical content is at the discretion of the Recording Teams, subject to the above limitations, as long as the submitted Recording has at least one vocal track. The production and engineering may only be conducted by Recording Team members.
Recordings will be judged by a panel of industry professionals, musicians and sound engineers utilizing the following criteria: (a) Clarity of Sound (30%; fidelity, signal to noise ratio and overall clarity of acoustic sources), (b) Microphone Technique (30%; selection and placement of microphones as they contribute to the overall spectral balance and stereo field, consideration given to creative, or unusual use of microphone choice and placement, phase coherence or room acoustics), (c) Mixing Technique (30%; overall sonic balance of the combined acoustic sources and placement of musical elements in the stereo field. Greater consideration will be given to effective and creative placement and relative levels of recorded sources in the stereo field and lesser consideration given to the effective use of equalization, compression and other signal processing of sources to create an engaging mix), and (d) Performance/Production (10%; evaluated on performance characteristics over which the recording engineer has some control.
The winning school will be awarded the entire Shure microphone locker, valued at more than $10,000. In addition, students on one of the winning teams will receive prizes ranging from a KSM42 microphone, valued at $999 each to SRH840 headphones, valued at $250 each.
"Every year the caliber of student talent improves, and we're amazed by the quality of their compositions," says Terri Hartman, Director of Marketing Communications, Shure Americas. "As we move into our eighth year of the competition, we're proud to continue supporting students who are pursing careers in the recording and music industry, and we look forward to another round of impressive submissions this year."
The contestants chosen in the random drawing will be posted on Shure's Website on or around October 31, and dedicated microphone lockers will be sent in the following days. The winner of the Fantastic Scholastic Recording Competition, as well as the runner-up and honorable mention distinctions, will be announced on April 30, 2012.
Source: Shure / Shure's Fantastic Scholastic Recording Competition.