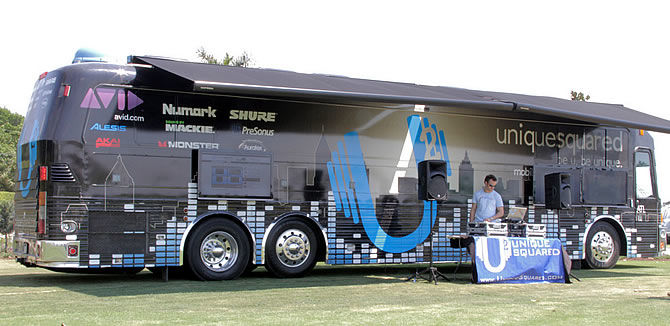 Atlanta's Unique Squared Pro Audio and creative director "AJ" Amond Jackson gave birth to Unique Squared Mobile Studio – a full-service recording studio in the back of a tour bus. And being a bus, it is on the road all time to music festivals and conventions across the country, giving established as well as up-and-coming artists the chance to lay down tracks with top-of-the-line audio gear, including the Shure KSM42 Vocal Microphone.
"This Mobile Studio project grew out of the idea that music can be created anywhere," says Program Director Soul Wallace. "We knew a lot of the musicians playing these festivals would love the opportunity to record music in a studio with some incredible gear. Many of these artists just don't have access to big studios and professional-grade gear, so they're grateful for this chance. And it also gives us the opportunity to showcase some of the incredible recording capability we sell, so it's a win-win."
The Unique Squared team started this project by purchasing a tour bus, then gutting it to make room for a full band, a vocal booth, and a control room where tracks can be cut, edited, and mastered on the spot. When it was ready to roll, Unique Squared Mobile Studio kicked off its inaugural year by traveling to the Winter Music Conference in Miami and the SXSW festival in Austin, inviting performers at each stop to come on board and record tracks free of charge, using some of the best equipment in the business.
At the conclusion of each festival, Unique Squared Mobile Studio team mixes the recordings and releases them as free downloads on the Unique Squared website. The artists are then free to use the downloads as promotional material.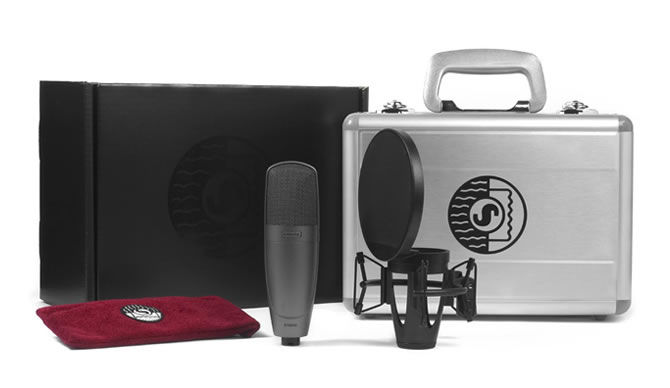 "We knew having the right vocal mic for the studio was critical," Wallace notes. "We had our team of experts choose carefully, and they decided on the Shure KSM42. We knew we wanted Shure mics because we could count on them to be durable and reliable. Plus, we knew they'd sound great. So many of the artists have been amazed by the sound quality they get with that mic – the finished product really sounds like it was recorded in a multi-million-dollar studio."
Shure KSM42 is a premium, side-address, cardioid condenser microphone that excels in studio vocal applications. The mic's design exhibits an ultra-wide dynamic range, exceptionally smooth proximity control, and consistent tonal quality, regardless of a vocalist's distance from the microphone.
"The mic's versatility makes the production manager and engineers' jobs so much easier. With such crazy recording schedules during these festivals, we don't have time to stop and change out the mic between vocalists. We know we can rely on the KSM42 to manage all kinds of voices, from a heavy bass to a higher soprano, and they're all going to sound great."
In addition to the KSM42, the Mobile Studio is also equipped with Shure SM81, SM58, SM57, and Beta 57 microphones.
For more information on the Mobile Studio, visit www.mobilestudio.uniquesquared.com.