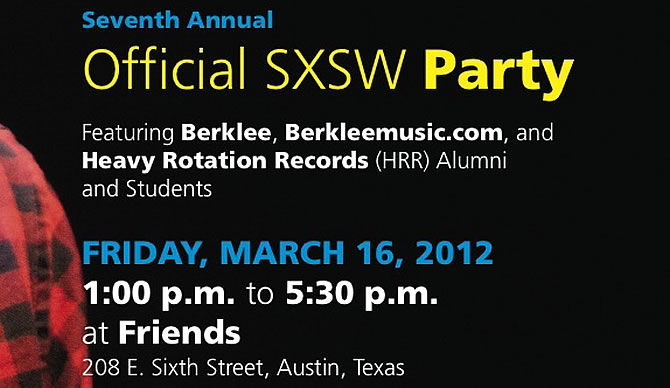 Berklee College of Music will be well represented among the thousands of bands, music fans, and industry members converging on Austin for the SXSW Music and Media Conference. Berklee is the only college to host an official day party at one of the music industry's biggest events, presenting its seventh annual SXSW Party on Friday, March 16, 1:00 p.m. – 5:30 p.m. at Friends, 208 E. 6th Street, Austin, Texas. In addition, dozens of alumni and students will play showcases and parties across the festival and speak at the conference.
The party features up-and-coming Berklee, Berkleemusic.com, and Heavy Rotation Records (HRR) alumni and students performing rock, pop, punk, dance, electronic, Americana, and folk. Artists include The Shills from Boston; Austinites Ume; Boston's The Grownup Noise; Brooklyn-based Lucius; Queen Caveat from Los Angeles; Canary (HRR) from Boston; Justin Klump, from Portland, Oregon; and Boston and New York-based Mrs. Danvers (HRR).
Check out the Berklee SXSW Party Sampler with streaming and free downloads at BerkleeCollegeofMusic.bandcamp.com.
Berklee's SXSW Party is 21-plus and open to SXSW badgeholders. The public can email sxswrsvp@berklee.edu to attend free of charge. Free copies of HRR's latest release, Under the Influence, will be given away. The album features Berklee students and alumni covering some of rock's biggest names and the seminal bands that influenced them. Listen at HeavyRotationRecords.bandcamp.com.
The Shills walk a fine line between delicate beauty and jolting, body shaking rock. Comprised of Berklee alumni James Zaner and David Sicilian, and Bryan Murphy and Ryan Jackson, they have cultivated a sound built from exacting musicianship and creative flexibility. Their last full-length, Ganymede, is a concept album about a misanthrope who gets shipwrecked after leaving society to be alone. He is forced to turn inward and slowly drives himself toward insanity. The Shills have built a solid following in Boston and New York with their passion and precision on stage.
Ume is an Austin-based group fronted by guitarist Lauren Larson, with husband Eric Larson on bass, and Berklee alumna Rachel Fuhrer on drums. Exploring the artier and heavier sides of indie rock and post-punk, the trio marries searing and soaring fretwork with indelible pop hooks, radiant choruses and Lauren's gossamer vocals. Ume's music offers beautiful juxtapositions: loud and soft, aggressive and ethereal, buoyant melodies bursting through wall-of-noise dissonance. "Distortion-heavy jams invite comparisons to Sonic Youth, but Ume do more headbanging and wailing," said Rolling Stone.
The Grownup Noise, from Boston, bridge the gap between Americana and indie-pop. All five members—Berklee alumni Paul Hansen and Adam Sankowski; Katie Franich; Aine Fujioka; and Todd Marsten—are multi-instrumentalists and equal contributors to the group's latest album. "The Grownup Noise's best asset is the songwriting, with lines of love and the changing seasons coming out as gently and colorful as the music itself," said The A.V. Club. They spent much of the past three years touring the country in a van that ran on recycled vegetable oil converted by tour mates Piebald.
Lucius, from Brooklyn, is fronted by Berklee alumnae Holly Laessig and Jess Wolfe. They have been described as "luscious, luminous, lilting lullabies," by the New York Times and the song "Don't Just Sit There" is currently being played on NPR's All Songs Considered. While writing their new EP, Lucius lived in an old Victorian house in Brooklyn, not knowing it had been a recording studio and music school for 60 years. So many treasures were left behind – like the 100 year-old Steinway piano that nurtured their writing. The fortress also housed bandmates and fellow alumni Danny Molad and Peter Lalish.
Queen Caveat, a hard-hitting four-piece from Los Angeles led by ferocious frontwoman Lauren Little, has been quick to turn the heads of rock fans throughout the west coast in 2011 on the strength of their infectious anthems, unrivaled musicianship, and riotous – and sometimes downright dangerous – stage show. The group is rounded out with Berklee alumni Will Weissman and Jesse Magnuson; and Ben Epand. Queen Caveat's new EP, Slap on the Wrist, comes out March 6, and the group can be seen on the TV show 20/20 in March.
Canary is a Boston-based rock/pop and blues band comprised of Berklee students, vocalist Jackie Berkley, drummer Dean Davis, keyboardist and saxophonist Alex Hartley, bassist Kyle Hovland, and guitarist Amy Mantis. Their music falls sonically between Coldplay and the Who with a touch of Eric Clapton. In less than a year, Canary has played all around the Boston area, including the House of Blues, released an EP and four singles, and was featured in the Emerson College TV show "4 Iroquois." Canary will appear on HRR's next release, Dorm Sessions 8.
Justin Klump, a Portland, Oregon-based Berkleemusic.com student, has established himself as a talented songwriter, singer, guitarist and producer. Klump began writing at 16 and quickly developed a keen sense for composing beautiful melodies and engaging lyrics. The Seattle Post Intelligencer wrote, "[Justin's] acoustic guitar and heart-on-sleeve lyrics will make you wish you'd never stopped keeping that personal journal!" Touring in support of his debut album in 2009 and 2010, he logged well over 100,000 miles performing from coast to coast.
Mrs. Danvers, a Boston and New York-based indie dance/rock band, formed in 2009 and has been packing clubs with a growing and devoted fanbase. Berklee alumnae Ann Driscoll (guitar/vocals), Randi Bernier (trumpet), Steph Barker (drums), and Dhy Berry (bass) win over diverse listeners with their blend of 60's-inspired melodies, funk-electro dance grooves, and rich synth/trumpet/vocal arrangements – all performed with infectious onstage energy and impeccable musicianship. Mrs. Danvers has released two EPs with a full-length on the way.
Source: Berklee Press Release